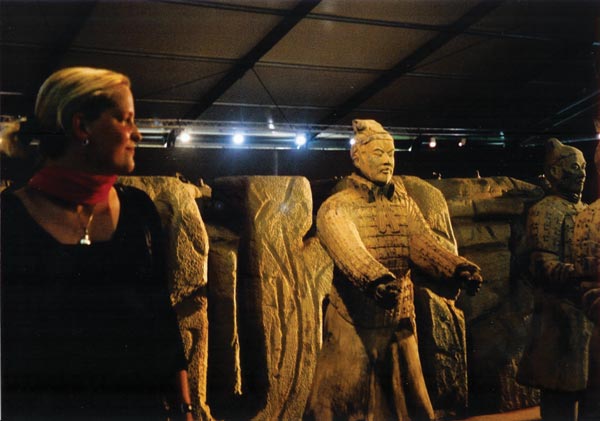 Exhibition Journeys of Leung Ping-kwan displays multimedia art by Yasi alongside photography by many others. Pictured is a photograph taken by Yasi. Provided to China Daily
Mention Leung Ping-kwan to almost anyone in art and culture, and they immediately say "ah". Born in 1949, Leung went by the pen name Yasi and was one of the city's most respected writers. His acute observations and boundless imagination left behind a large body of work in the form of poetry, novels, essays, translations and collaborations with artists of various media.
Yasi was originally from Guangdong province, though his family moved to Hong Kong when he was a baby. As a teenager, he began to publish poems in the Chinese Student Weekly. After his first book of prose Gray Pigeon Mornings was published in 1972, he began teaching modern Chinese literature initially at the Chinese University of Hong Kong and then around the world.
Yasi's passing last year prompted a collective effort by grassroots artists and government officialXs safeguarding culture to mount a series of events and exhibitions to showcase his life's works.
The three-week tribute kicked off with an opening ceremony at Central Library officiated by Hong Kong's Under Secretary for Home Affairs Florence Hui. "The work of professor Leung Ping-kwan reflects his journey of life, remarkable and poetic. This exhibition not only introduces his many journeys between East and West to the public, but also showcases his profound contribution to Hong Kong literature."
Yasi loved local food and often wrote lyrically about his favorite meals. Chef Leung Man-to noted that his favorite dishes were bitter melon in black beans, steamed yam paste and fried mung bean sprouts with silver shrimps and clams.
Fellow writer Lau Kin-wai, who worked with Yasi decades ago for the Chinese Student Weekly, agrees. "Yasi always cross-referenced food and literature, such as (writer)Eileen Chang did with the muffin."
Yasi was instrumental in leading the wave of contemporary Chinese writers in US academia during the 1990s. During that time, he was a visiting scholar at Toronto's York University and writer-in-residence in Berlin, as well as chair professor of comparative literature in the department of Chinese at Lingnan University, a post he held from 1997 until his passing.
Often working outside the boundaries of the written word, Yasi filmed Moving Home, a documentary about the 1997 Hong Kong handover. The 25-minute video was shown at the Hong Kong International Film Festival and London Film Festival. He was a prolific collaborator, often working with photographers, actors and musicians to reinterpret his writings in a variety of formats.
It is no wonder that the outpouring of works to commemorate Yasi could not be contained in one venue. Journeys of Leung Ping-Kwan, held at Hong Kong Central Library, is an exhibition of multimedia art by Yasi himself alongside photography by Leong Ka-tai, Lee Ka-sing, another mountainman, and many others.
The show at the Hong Kong Fringe Club included an opening night of short performances inspired by Yasi. Bonnie Chan, actress and founder of the local troupe Theater du Pif, opened with a dramatic act on a ladder.
In the center of the gallery, artist Andy Yung worked with Hong Kong farmer Au Lau-kan on a trellis of bitter melon, paying homage to one of Yasi's favorite vegetables. A poetry reading by Arthur Leung and a violin solo by Kung Chi-shing stirred the crowd.
And of course there are Yasi's best-known works, alongside art that he inspired, exhibited throughout the Fringe.
It is a fitting send-off to a man who touched many lives with his unique viewpoint of being Chinese in Hong Kong.
IF YOU GO
Exhibition Galleries 1-3, G/F, Hong Kong Central Library, 66 Causeway Road, Causeway Bay. 11am - 8pm, until Jan 28. 852-9184-6984.
Yasi* We Friend: A Cross-Media Response Exhibition to Leung Ping-kwan, Anita Chan Lai-Ling Gallery, Hong Kong Fringe Club, 2 Lower Albert Road, Central. Noon - 10pm. 852-2521-7251.
We recommend: