JIANG DONG/CHINA DAILY
Kung Fu Revelations:9 Scrolls reveals the history and spiritual essence of Chinese martial arts through performances, which offer a tranquil experience for the audience.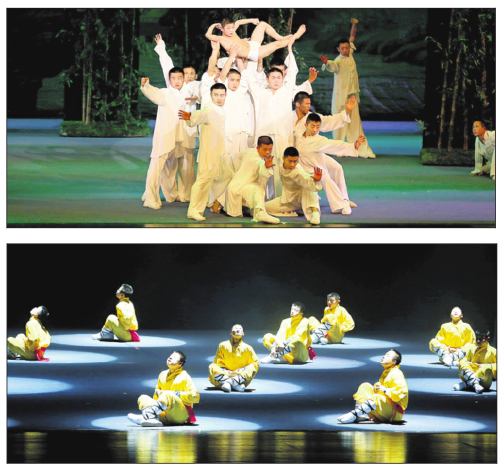 JIANG DONG/CHINA DAILY
Performers of Kung Fu Revelations:9 Scrolls are from the country's best martial­arts schools and are ages 8­22.
After years of development, a traditional martial-arts show with a tranquil spirit finds a new home in Luoyang city. Chen Nan catches up with the production's creator.
You can learn real Chinese kung fu in 90 minutes. You will learn nothing about fighting, but you will open your mind to the story of the nine virtues of man's spiritual struggle: purity, sutra, diligence, spirit, listening, shape, devotion, serenity and paradise. That's the promise of the show Kung Fu Revelations: 9 Scrolls, by Kung Fu Star Performing Group of China Poly Agency. Yu Yang, the agency president, came up with the idea and selected the young kung fu masters after visiting more than 100 of the best martial-arts schools in China.
He put this group together in 2003 to shatter some stereotypes.
"Chinese kung fu is neither stage combat nor fighting. It originates from Chinese culture, which we illustrate in the nine chapters in the show," says Yu.
The result is a combination of contemporary dance and kung fu, along with poems projected on screens to explain each chapter, with lines like "each type of spiritual catastrophe originates within the self" and "the essence of kung fu is morality, truth, energy and harmony".
Since the show made its debut in June 2008 at Beijing's Poly Theater, it has toured throughout Asia, Europe, Australia and North America-including a six-month run in Las Vegas in the United States.
Now, the show moves to its next stage. After three nights in Beijing, the show bid farewell to the capital and went to Luoyang, Henan province. Starting from April, it will be staged at Luoyang's Traditional Chinese Study Institute in a specially built theater, with 6,000 shows slated over the next 15 years.
"We adopt the format of a Broadway show, which has good artistic quality and runs for a long duration," says Yu. He's not worried about selling tickets, priced from 180 yuan ($30) to 2,000 yuan. He says more than 80 million tourists visited Luoyang in 2013, including 8 million from abroad.
Situated on the central plain of China, Luoyang is one of the cradles of Chinese civilization. As the capital of China for 1,500 years, it attracted many great poets and writers in ancient China who left grand works, including the Book of Wisdom and Han History.
Religious culture also thrived: Taoism has early roots there, and the first Buddhist temple, the White Horse Temple, was built there. Luoyang city is also the site of many of the scientific inventions of ancient China, such as the seismograph, armillary sphere, paper-making, printing and the compass.
That rich history and culture, he says, is one reason he didn't choose to establish the show in a big city like Beijing, Shanghai and Guangzhou-where "too many extravaganza shows" emphasize visual appeal over content.
"I believe that Kung Fu Revelations: 9 Scrolls will offer a tranquil experience for the audience," says Yu. He named the new venue the Theater of Meditation.
To enable audience members to immerse themselves into the show, the production team incorporates aromatherapy, updated lighting and live Buddhist chanting. He also plans to launch traditional Chinese study lectures in the theater during the day.
"In the fast-changing world, we return to our own culture to seek relief and meditation, which is our spiritual DNA," says Yu.
"We want to find a language for Chinese kung fu rather than using ancient philosophies to educate people," adds the renowned choreographer Liu Zhen, who directed and choreographed the show.
Liu, who graduated from the traditional Chinese folk dance department of Beijing Dance Academy and is known for his choreography in the dance drama Dunhuang My Dreamland, says the show itself is evolving.
As the 35 young Chinese kung fu masters ranging in age from 8 to 22 grow up, new members join in. The youngest actor, 8-year-old Shi Wenlei, is the third generation of the leading role in the show.
To better pass the message of Chinese kung fu, Liu also adjusts the show's tempo and the actors' movements based on the audiences' reactions.
"Kung fu is an art form, which is very beautiful and full of energy. Even the slowest movement contains power," Liu says. "That beauty of kung fu has been overshadowed by fast fighting scenes and displays. We want to let the audience really see it."
We recommend: