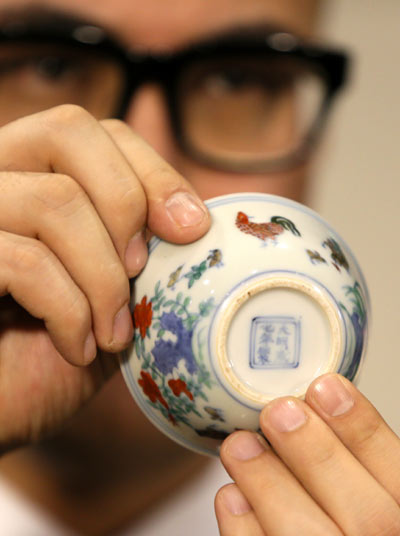 A porcelain cup known as a "chicken cup" because of its decorations fetched $36 million at a Sotheby's auction in Hong Kong on Tuesday. The buyer was Shanghai billionaire Liu Yiqian. [Photo by Li Peng / Xinhua]
An 8.2-centimeter-tall porcelain cup from the Ming Dynasty (1368-1644) fetched a staggering HK$281.24 million ($36 million) at an auction in Hong Kong on Tuesday, setting a new record for Chinese porcelain at auction.
Shanghai billionaire Liu Yiqian won the bidding via a telephone consignment.
The cup, which is in pristine condition, was made using the doucai method of fashioning porcelain that began during the Ming Dynasty, and was used for appreciation, not for display. It is commonly known as a "chicken cup" because it is decorated with paintings of chickens.
The cup celebrates the pinnacle of the Chenghua style of porcelain-making from 1465 to 1487 that is renowned for refining the doucai method. Well-preserved examples from that period are rare.
Historians say this particular style is an important variation of Chinese porcelain because it features a contrast of overglaze enamel - which is applied on top of an existing glaze - paired with underglaze outlines - or decorations applied to the surface of a ceramic before it is glazed. Rich tones of yellow, red, olive green and underglaze blue are common during this period.
"There is nothing rarer in the Chinese porcelain than a Chenghua chicken cup. There are less than 20 genuine ones in the world," said Giuseppe Eskenazi, a London dealer of Chinese antiques who once owned the cup and made unsuccessful bids on Tuesday.
Only four Chenghua chicken cups, including the one sold in Hong Kong, are owned privately. Others belong to public museums including the British Museum, the Taipei-based National Palace Museum and the Metropolitan Museum of Art in New York.
Eskenazi described the cup as a unique opportunity that every serious collector, museum or institution wants to own.
"One thing about the Chenghua porcelain is that it is alive. It's like a living piece of porcelain. When you touch it and feel it, the waxiness, softness and thinness are so unique, it is the only porcelain you can identify blind," he says.
The cup had been in the collections of revered collectors such as Leopold Louis-Dreyfus and Sakamoto Goro. It was sold at a record-breaking price of HK$29 million at a Sotheby's auction in Hong Kong in 1999 to the Zuellig family in Switzerland. The chicken cup from Tuesday's auction came from the Zuelligs' Meiyintang Collection.
"Every time a chicken cup appears at auction, it redefines prices in the world of Chinese art. The one sold is one of only three perfect chicken cups ever to come to the market," said Nicolas Chow, international head of Sotheby's Fine Chinese Ceramics and Works of Art.
He said the Chenghua chicken cup is among the most prized items in the history of Chinese art. After the Ming Dynasty, porcelain makers copied the chicken cup as a tribute to the Chenghua period - Qing Dynasty (1644-1911) emperors Kangxi, Yongzheng and Qianlong each commissioned forgeries of the cup. Cups were also reproduced to deceive collectors.
we recommend: