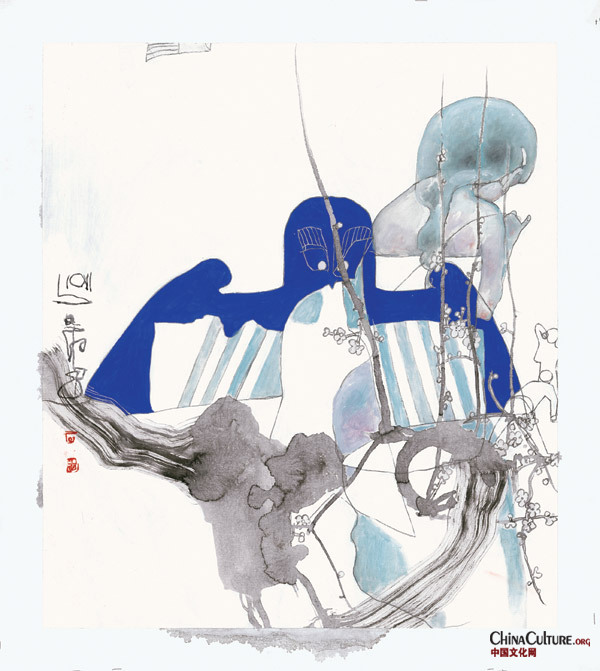 There will be a Shi Hu Art and Calligraphy Exhibition in China's National Art Museum, starting October 11, with around a thousand works of calligraphy, Chinese ink, colored paintings, and oil paintings on display.
At a press conference in Beijing, on August 26, the artist explained, "Chinese characters are at the core of Chinese culture and the development of calligraphy embodies the progress of Chinese painting and Chinese culture." In fact this is the first time for such a large number of calligraphic works by this artist to be open to the public.
It seems that Shi never forgets his roots and has a passion that is almost singular for Chinese ink paintings and traditional culture, as can be seen in his works. But Shi has stated that he has never stopped exploring a blend of western culture, Modernism, and stylistic elements with Chinese painting.
"I hate to stick to one painting style, even it is very successful, because I haven't found my final destination on the road of creation," Shi maintains, adding "I really expect to see Chinese painting generate its own form of modernism." The exhibition is in fact meant to show the life and modernism of Chinese culture, according to Shi.
The artist has chosen to explore the possibilities of using different materials in his work and to expand the aesthetics of Chinese art in the contemporary world, and the flowing and mixture of lines, the contrast and overlapping of colors allow his intuition to offer a broader interpretation of the oriental spirit in these times.
The works in this exhibition were developed over last 10 years, and are a fuller demonstration of his ability. The Chinese landscapes (mountain and water) are being seen here for the first time.
Sponsors of the exhibition are the Chinese Artists Association, the National Art Museum of China, the National Academy of Painting, and People's Fine Arts Publishing House.