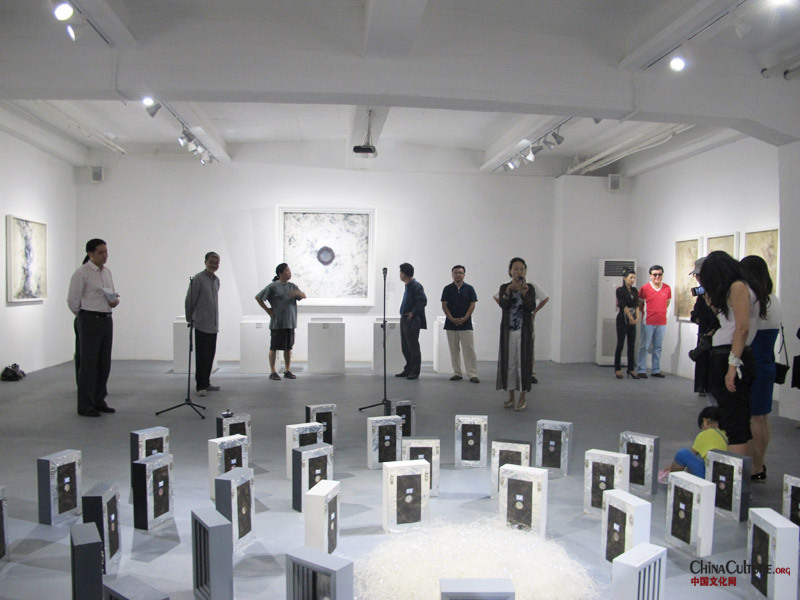 Zhao Yi Installation Art, at Beijing's 798 art zone, Aug 25 - Sept 15. [photo by Yang Qi/chinaculture.org]

Worn out disks, pieces of glass, bits of hair, hemp, or silk? Are these things something you ordinarily associate with high art?
Well, Zhao Yi does.
While installation art still doesn't seem quite so famililar as an oil painting for the public, for Zhao, it's the stuff of art.
"The advantages of installation art are in its space language and material language, in contrast to two-dimensional paintings. It has a strong visual and inner impact through three-dimensional space, which makes for a special spatial communication between the visitors and the work. You can walk across the installation work, or inside or outside them and seek a dialogue with them," Zhao says, describing her work.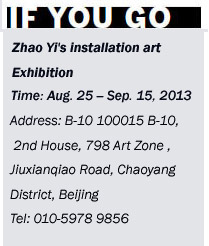 For the material language, she explains, "Different materials have their own language. For example, a mirror boasts of an amazing penetration, while hemp shows its softness and flexibility, and silvery silk can reflect light with a sense of holiness and hope, none of which can be seen in two-dimensional paintings."
While installation art can have a luxurious feel, it can also be dangerous because it not only needs space, time, and money, but also buyers, and they may not be easy to find.
Or, in Zhao's words, smilingly, "That's why some friends call me 'a person walking on the edge of a cliff' ."
In contrast with overseas exhibitors with a big name, the artist seems satisfied these days with just seeing a visitor moved to tears by her works or making good friends while creating works of art.
"Art can express the silence of life and my works convey sincerity, nature, and aesthetics. The language of installation art is so unique and powerful, which is why I'm attracted deeply to it. I love it and have stuck to it for 18 years. And, I believe my persistence will pay off. "
| | | |
| --- | --- | --- |
| | | |
| Traditional Yue opera "Liu Yi Delivers a Letter" staged in HK  | Shi Hu art exhibition in Beijing | At the heart of China  |