Yixuan Jiaozi Restaurant's starch noodles with sesame paste and cucumber slices is a good starter for a meal. Photos by Ye Jun / China Daily
Once basic festival fare, the boiled dumpling finds its way to discriminating kitchens and palates, Ye Jun finds.
Jiaozi restaurants are becoming more refined. That's the impression I get from a few recent visits to eateries that specialize in jiaozi, or boiled dumpling.
Jiaozi is one of China's national staples, evolving from a food for important occasions such as Spring Festival to a popular snack food in specialized restaurants.
Jiaozi is an all-time classic, with 2,000 years of history. People eat it at such lunar times as Liqiu, the start of autumn, Dongzhi, the start of winter, and Sanfu, the hottest period of summer. So it is fair to say it is a food for all seasons.
A jiaozi snack restaurant once mostly offered a big variety of dumplings, while serving some simple cold or hot dishes. Decoration was usually simple, if not a bit shabby.
But a recent visit to Yixuan, a specialized jiaozi restaurant, changed my expectations. The restaurant is beautiful and comfortable. Waitresses appear in good-looking traditional dresses.
The restaurant is constantly full for dinner, so we stood in line for 10 minutes before getting seated. A friend who comes often ordered two favorites - starch noodles with sesame paste and cucumber slices, sour preserved cabbage slices boiled with white pork.
The two dishes are typical specialties of Northeast Chinese cuisine, the restaurant specialty. Other popular dishes are soy-sauce flavored pork spine, and a tasty but pricey fish head from Qiandao Lake.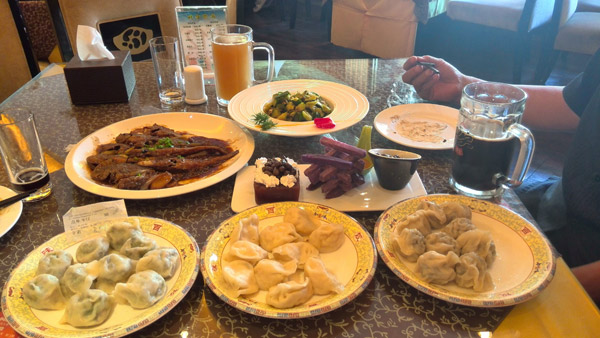 Tianjin Baijiaoyuan's jiaozi with pure vegetarian stuffing, and braised little yellow croaker.
We ordered four plates of jiaozi with different stuffing, each at 100 grams, the minimum amount of order. "Three delicacies with pork" and "coriander with pork" stuffing were the best-tasting, and leek with pork and pure vegetarian stuffing were not bad.
Four kinds of jiaozi plus two dishes cost us a total of 100 yuan ($16), which comes to 25 yuan per head, an excellent price considering the pleasant environment. One complaint: While we waited to be seated in the full restaurant, the waitstaff was a bit slow in pouring us some jiaozi soup.
Another time I was surprised recently by good flavor was at Dongfang Jiaoziwang, literally, "king of jiaozi in the East".
The jiaozi restaurant has quite a few branches in Beijing, which seems to enable a fast flow of ingredients and ready-made jiaozi. The jiaozi tastes fresh and flavorful, although the stuffing looks a bit small compared to some other restaurants.
All the classic stuffing combinations are good - pork with leek, egg with leek, and pork with long beans. But zucchini with mutton tastes fantastic, and the cold dishes are also really good. Sauteed jiaozi with beef stuffing is a nice alternative to traditionally boiled dumplings.
Service is quite proper, too. A meal with all that variety of jiaozi and cold dishes cost less than 40 yuan per head.
One place that started the jiaozi restaurant trend is Tianjin Baijiaoyuan, Tianjin's "garden of a hundred jiaozi".
The introduction on its menu says the restaurant achieved a Guinness record for making 229 kinds of jiaozi. Celebrities captured in photos while dining here include former US secretary of state Colin Powell and former first lady Laura Bush.