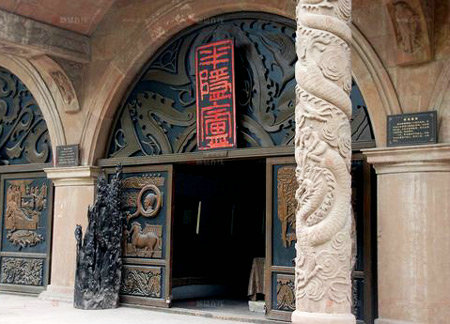 Deyang wall is a blend of ancient and modern culture, are professionals with master of folk art with painstaking efforts and labor to create the monument is a crystallization of collective wisdom.
Deyang's rock carvings, combining national culture with the traditional one, has fully demonstrated the local and the times. A total length of 720 meters, seven meters high, to the natural, life for the performance of the theme, the use of relief,Sculpture in the round, construction as well as a variety of wall space for the main style care portfolio. Form sub-portfolio, creating a series of both independent and linked to strong rhythm. Block wall made entirely of stone, actual situation with the right rhythm, the climax occur repeatedly, always showing the simple, magnificent charm.
Sone include: formal and music are closely linked to arch composed of 35 national cultural promenade; with arch corresponding 32 modeling with strong local traditional characteristics of different forms, lifelike Panlong Shizhu ; Riyue galleries, music, galleries, the People's Bank Road, large-scale relief, 'Song of Life' and 'Light of Wisdom'; in space with the wall corresponding to 12 Year-chu. This constitutes a complete stone Park, to the people show the charm of Chinese culture permanently, showing a powerful force for national unity, eulogize the light of the wisdom of the Chinese people.