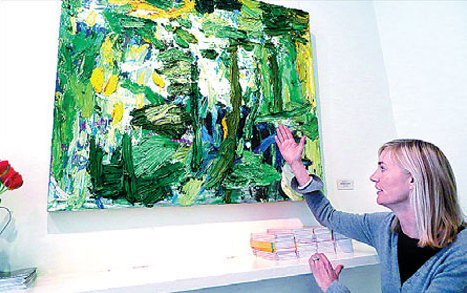 Martha Sutherland of M. Sutherland Fine Arts Ltd points out the vibrant colors in this oil on canvas homage to Paul Cezanne's landscape art by Zhu Jinshi, on display for Asia Week New York. Caroline Berg / China Daily
Although China has a long tradition of ink painting, the medium was branded as feudal elitist during the "cultural revolution" (1966-76), and shunned in favor of Western-style Social Realist oil painting techniques.
But champions of the ink art form are experiencing a renewed interest in the tradition, with a variety of contemporary examples on display during Asia Week New York in exhibitions at Sotheby's and Christie's, and in Chinese Abstraction Now, an exhibition at M. Sutherland Fine Arts gallery.
"We always had this idea of promoting newer ink paintings, because so much has changed in the last 20 to 30 years," says Carmen Shek, associate specialist in the Chinese paintings department at the Christie's based in Hong Kong. "There have been many innovations within the ink tradition, but it hasn't really had a platform to properly promote an exhibition."
Christie's will present Beyond Tradition: Chinese Contemporary Ink, an exhibition of 18 artworks by seven contemporary ink painters; while Sotheby's is hosting SHUIMO/Water Ink, which features 14 artists billed as representing a period of "bold renewal and reinterpretation", according to the auction house.
Martha Sutherland, the proprietor of the eponymous private by-appointment gallery, has represented Chinese ink painters since 1999, and has noticed a sudden shift toward private sales in Chinese contemporary ink in the past year.
Chinese Abstraction Now features four painters, including Liang Quan, Hai Tao, abstract oil painter Zhu Jinshi and the notoriously private Jia Youfu, with whom Sutherland developed a relationship during her years studying at Beijing's Central Academy of Fine Arts in the 1980s.
"When I walked into Jia Youfu's first solo show in 1988 (at the National Art Museum of China), I'd never seen any painting like this before," says the Kansas City native. "I just flipped out."
M. Sutherland is the sole gallery in the US representing Jia, according to Sutherland.
None of Sutherland's artists are being shown in either Christie's or Sotheby's exhibitions, which she believes is the result of their not speaking English or being outspoken self-promoters, she says.
Shek confirms that Christie's selected ink artists, who have had extensive shows worldwide, are being promoted because the auction house hoped to make a strong impression with its first private sales exhibition for contemporary Chinese inks.
"We hope that it's also encouraging emerging artists and students to continue the trade and work hard in the ink tradition," Shek says. "It's (an art form) that shouldn't be lost."
Both Sutherland and Shek highlighted various technical innovations being developed out of this traditional medium.
Liang Quan pushes the limits of traditional Chinese painting media in a way that no other contemporary artist does, Sutherland says. He employs conventional materials in an unconventional way, such as painting with Chinese tea or steeping paper to create abstract works.
Featured Christie's artist Liu Guosong has a type of paper named after him; he crumples, stains and tears the paper in pieces for works like Snow Mountain Series A. This inverts the traditional techniques of Chinese ink paintings, which otherwise use black to outline objects, with white representing voids and empty spaces, Shek says.
"I think in each period there are equally important works because of historical relevancy," Shek says. "But to sit in a room with ink paintings that look so different from what you've seen, all the way from 2,000 years to 100 years ago, it's quite an achievement and it's a very fun process."
Sutherland has observed a trend toward more scholarship and the appreciation of scholarship in China.
The reinvigoration of ink painting reflects a growing respect for the past, she says.
"I think there's a real resurgence of people realizing the importance of their culture in China, and not just throwing out everything that's old," Sutherland says.
carolineberg@chinadailyusa.com
By Caroline Berg in New York