An exhibition featuring intricate Shandong embroidery in Guangxi Zhuang autonomous region has just opened, celebrating the elaborate needlework of some very skilled women. Meanwhile a Confucius temple in Dujiangyan in the city of Chengdu is honouring the ancient sage.
As one of the four major types of embroidery in China, Shandong embroidery has a history of over 2000 years.
With exquisite skills and superb craftsmanship, this unique embroidery is believed to best way to transfer Chinese calligraphy and paintings on to silk.
At the Guangxi Ethnic Culture Museum, this special exhibition features over 70 pieces of Shandong embroidery, ranging from landscapes, flowers and birds to human portraits.
In addition to admiring the artists' intricate needlework, visitors can also have a try to pull the threads for themselves.
"We're passing on the tradition. The embroidery is not just a pastime for housewives, it's an art."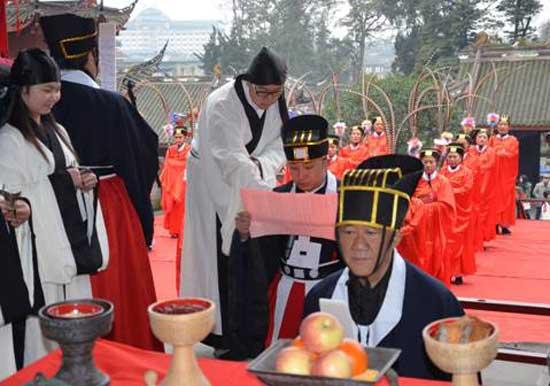 Hundreds of people attended a traditional ceremony in honor of the ancient guru, at a Confucius temple in Dujiangyan in Chengdu.
While at a Confucius temple in Dujiangyan in Chengdu, hundreds of people attended a traditional ceremony on Friday in honor of the ancient guru.
The ceremony was held on the first Ding-day of February. Ding-day refers to the fourth day of the ten-day week of the Chinese lunar calendar.
The rituals including music and dances conducted in strict accordance with ancient writings.
"We've organized this field trip for the children so they can learn more about traditional cultures, especially the "Li", or manners."
The temple has been dedicated to preserving traditional culture ever since its reopening to the public last May..
"We hope the ceremony will inspire more people to learn about traditional cultures and that's the key to reviving the Chinese dream." Niu Zecheng, director of Society Of Traditional Chinese Culture, said.
Passing on the cultural heritage Confucius has left us with and reviving traditional cultures is surely a duty for us all.
 We Recommend: