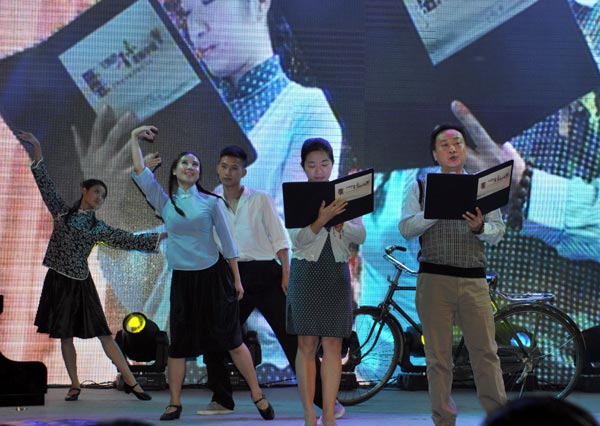 Poetry fans attend a reading event in Qingyuan, Guangdong province, in 2013. Photo provided to China Daily

The success of Poems Selected for Children is surprising to some but not to deputy chief editor of China CITIC Press' third branch Qin Tiantian.
The collection of 101 poems by 57 poets from around the world has sold more than 50,000 copies since its July 5 release. Most poetry books are lucky to sell a few thousand copies.
The works were selected and edited by Chinese poet Bei Dao, who has been nominated for the Nobel Prize in literature many times.
"We knew the book would sell well because it reaches out to a wide range of readers, including parents and poetry lovers," Qin says.
"It's not only about poetry but also education and childhood. Poetry is one of writing's most literary expressions. It is indispensable to everyone."
The book's success attests to the genre's rejuvenation. So does the fact that the publisher, which produces troves of best-sellers but typically focuses on business management and social sciences, even considered releasing its first poetry book.
China is globally acclaimed for its ancient poetry. The 1980s and '90s were a golden time for modern verse, when a collection could easily sell tens of thousands of copies, says literary critic Gao Xing. It was during this period that talented wordsmiths, such as Bei Dao, Shi Zhi and Gu Cheng, rose to prominence.
But modern poetry's appeal began to diminish after the 1990s. Sales declined and publishers concluded poetry didn't make money.
Previously popular series, such as Hunan Literature and Art Publishing House's Shiyuan Yilin, (Translated Works from the Poetry World), ceased publication, Gao says.
But the last two years have seen a revival in interest and, consequently, publication.
Gao believes one reason is the success of Everything Stands Silent and Puzzling: Poems New and Selected, a collection of 75 poems by the 1996 Nobel Prize-winning Polish poet Wislawa Szymborska published in 2012. Everyone was surprised when the book sold more than 100,000 copies a year.
We recommend: