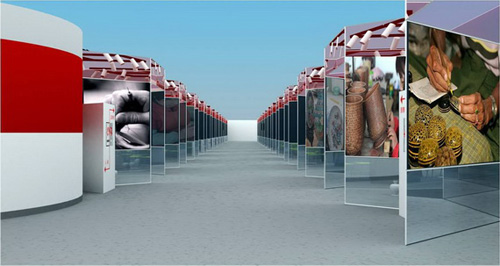 Conceptual picture of the pavilions

2014 Chinese Artworks Industry Expo Fair will be unveiled in the artwork industry cluster of Songzhuang on Sept 29. The fair, themed "Artworks make our life better", is not just an exhibition of artworks, but a bridge to connect the pubic and art. It is designed to be an artworks shopping festival that will help many families take home art and to enjoy the beauty and pleasure of art.
The public artworks shopping festival will feature two major pavilions, five theme pavilions and one Taobao (treasure-digging) Street. "Treasure diggers" will have a chance to appreciate splendid works from various arts organizations and artists from all over the world. There also will be newly-innovated artworks and artistic derivatives presented on Taobao Street.
We recommend: