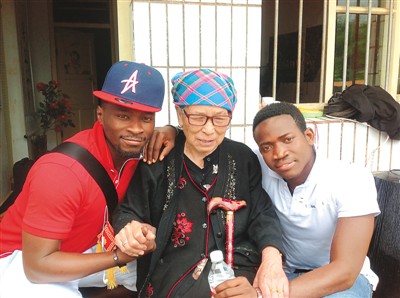 Laowang (left) travelling with his friend in Yunnan. (Photo/People's Daily Overseas Edition)
Laowang first came to China as Donatien Leolein. His Chinese friends found the name too hard to remember and jokingly suggested that he call himself Laowang instead (Lao, or old, is often put before someone's surname to suggest seniority, or intimacy with the person being addressed or mentioned. Wang is a common surname in China), probably not realizing that he would actually do so and give himself one of the most easy-to-memorize names in China.
A Cameroonian who's studying Business Chinese at UIBE's School of International Education in Beijing, Laowang is a solidly built man whose laughter rings with a charm that makes the winter seem less cold.
After graduating from the University of Douala in 2005, Laowang had been helping his mother with their family's import and export business in Cameroon. As trade between China and Africa boomed in the last few years, the family began to direct their vision toward the flourishing economy in the East.
"I need to go to China," Laowang decided, and found himself in Beijing at the end of 2011, alone, speaking zero Chinese. After a year of language study, he became an overseas student in a non-degree program at UIBE.
"I have classmates from the US, Russia, Japan, Mongolia, Kazakhstan, and Indonesia, it's like a small United Nation," says Laowang. The intensive language training he receives every week along with his classmates is making him an increasingly fluent Chinese speaker.
Laowang loves mingling with local Chinese at every opportunity he gets, often startling them with his authentic Mandarin, sometimes even tinged with a little Beijing accent.
When he has time, he will simply wander around the city, sometimes winding up in the maze of hutong allyways and engaging in conversations with the old grandpas and grandmas.
"I love to see how the Old Beijing folks live," he observes.
Laowang is also a fan of We Get Married, a TV series recently aired in China, and regularly discusses the plot of the soap with his Chinese friends.
"Listening to songs and watching TV series are the most effective ways for me to learn Chinese," he says. "It's called the Otaku learning method" he adds, bursting into peals of laughter.
We recommend: