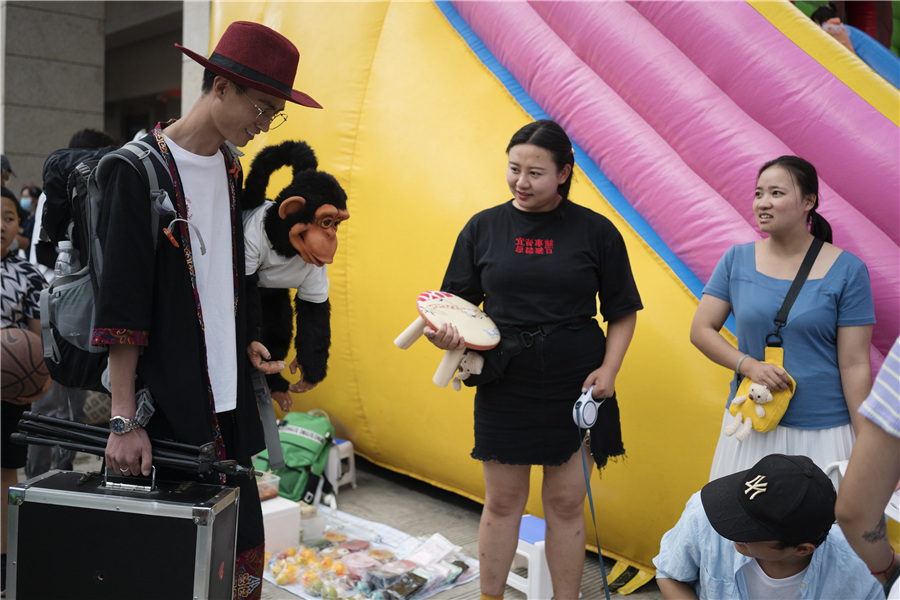 In order to revive the economy, the Lijiang government in Yunnan province encourages the operation of street vendors. Li Bing organizes a charity gig at the local night market. [Photo by Wang Qing/For China Daily]
Ventriloquism requires constant effort, innovation and hard work
Ventriloquist is a not high-profile profession in China, and there are only a handful of people proficient in ventriloquism in China. It is said to have originated in ancient Egypt, with a history of more than 3,000 years. There are also many records about ventriloquism in ancient China, often referred as "belly fairy".
It was also called "belly-talking", but in fact the sounds do not come from inside the belly, rather fluttered through the vocal cords.
Ventriloquism, or ventriloquy, is an act of stagecraft in which a person creates the illusion that their voice is coming from elsewhere, usually a puppet prop, known as a "dummy". Ventriloquists do not move their mouth, and they exert their strength in the abdomen to adjust the breath at different positions of the vocal cords. Sounds are put forth through the breath to create resonance in the nasal and cranial cavity.