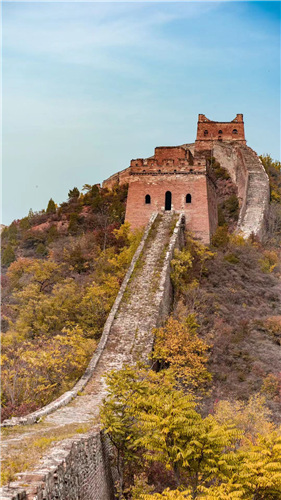 A travel route featuring the Great Wall's Simatai section in Miyun, an original section of the Great Wall dating back to the Ming Dynasty (1368-1644). [Photo provided to China Daily]
Beijing's Miyun district has rolled out favorable policies and major projects to boost tourism and cultural development.
The district will support distinctive homestays, rural-tourism destinations, museums, libraries and bookstores to become a demonstration zone for culture, travel and leisure experiences in 2021, it said at a tourism-development conference on Nov 18.
The meeting aimed to boost quality tourism development and carry out the spirit of President Xi Jinping's call for continued efforts to preserve Miyun Reservoir, the major source of drinking water for Beijing, and fully advance the building of an ecological civilization.
Businesses that invest at least 50 million yuan ($7.6 million) in the above-mentioned sectors will be awarded 1 percent of the actual investment amount. Top-rated homestays and hotels will be granted prize money ranging from 100,000 to 500,000 yuan, based on the district's policy.
"We will tap into local culture and develop courses for family travelers," says Yin Wenhuan, who runs Shanli Lohas, a cluster of hotels in a village in Miyun, where the hotel exteriors have retained their old look. The village is nestled in a valley and has only one way in and out.
"They will live and experience farming here," Yin says.
Beijing Enterprises Group will invest in the construction of a boutique hotel next year, says Li Yongcheng, a senior official with the company.
"We've focused on developing rural tourism, based on Miyun's characteristics," Li says.
The Beijing company is already involved in some homestay construction in Miyun. Those projects will be completed at the end of this year, according to Li.
The company will continue working with Miyun's plan to contribute to the district's ecological and tourism development, Li says. "We have many good cooperation and investment opportunities here."
History and cultural elements will be the focus for eastern Miyun, while the western areas will offer more experiences reminiscent of the country's revolutionary history. Northern Miyun will abound in farming and camping tourism resources, while fashion, sports and pastoral charm will be found in the south.
A travel route featuring the district's Gubeikou Great Wall will be developed to cover study, leisure and sports elements for travelers.
In addition, local water and fishing culture will be integrated with tourism. Homestays and other tourism-service facilities will be arranged along the marathon tracks meandering through Miyun's forest.
The district is striving to increase the income of its major scenic spots by 40 percent year-on-year to 826 million yuan by the end of next year, according to Ge Jungai, head of Miyun's publicity department.