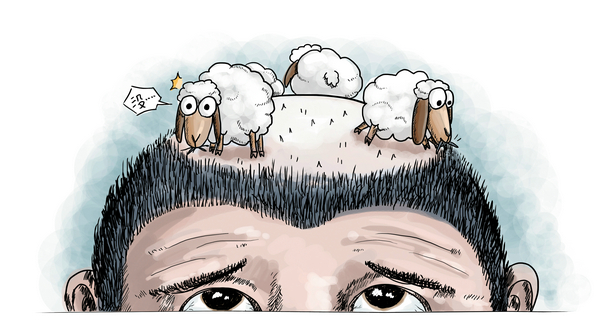 CHINA DAILY
Losing up to 100 strands of hair a day is a natural phenomenon. However, if that number continues to increase and it appears the hair is not growing back you may be on the road to baldness.
According to the National Health Commission, more than 250 million people in China, or every sixth person, suffers hair loss, many of whom will be under the age of 30.
The Night-time Consultation Report issued on Oct 15 by AliHealth, a wholesale source for medical supplies, said 65 percent of the users who asked for consultation from 9 pm to 7 am were aged between 20 and 30. Those aged 30 and above accounted for 80 percent of those reporting symptoms such as acne, hair loss and depression.
Many of those reporting hair loss attributed their loss of hair to pressure of work and long-term irregular work patterns. In order to prevent hair loss, Wang Xiaohe, who graduated from a top university in Beijing within the past five years, said he had tried food supplements, medicinal supplements, anti-hair loss and hair growth products, but found that "his hairline is getting higher and higher, and the hair is becoming more sparse, almost to the point where the scalp is visible to the naked eye".
"Once the hair becomes thinner and the hairline retracts, the person's whole image is greatly reduced. Anyone who sees me who does not know me thinks I'm older than I really am. For us young people, this is simply unbearable."
So it is not unknown for people under 30 and suffering hair loss to begin wearing wigs. The owner of a wig shop in Beijing says the number of young people visiting the shop has risen from 10 percent a couple years ago to 30 percent now.
"In the beginning most of the customers were middle-aged and elderly," the owner said. "In recent years there have been more young people, especially men, with hair loss their main worry."