The main events marking China's annual Cultural and Natural Heritage Day were hosted in Guilin, Guangxi Zhuang autonomous region, on Saturday.
Co-initiated by the National Cultural Heritage Administration and local government of the autonomous region, the main theme of this year's Cultural and Natural Heritage Day is "let cultural heritages bring colors to the all-round well-off society."
A major forum was held in Guilin on Saturday to share outstanding cases nationwide showing how protection of cultural heritages boosts local tourism and helps fight against poverty.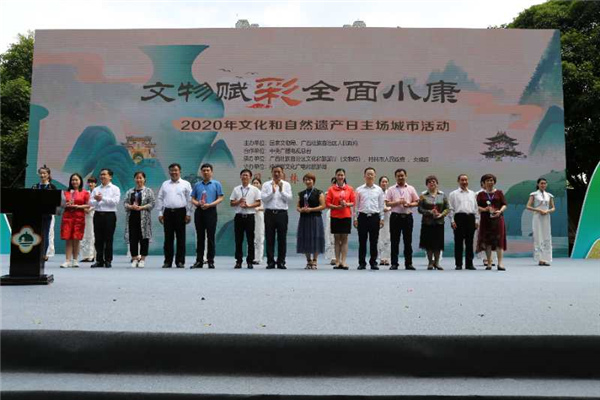 [Photo provided to chinadaily.com.cn]
Fifteen outstanding individuals who contributed to protection of cultural heritages were bestowed awards in Guilin. The list includes police officers who solved main tomb-robbery cases, volunteers patrolling around cultural heritage sites, a conservator of cultural relics within military bases, and the director of Hubei Provincial Museum who stayed in the museum for months to ensure safety of staff and museum collections during COVID-19 outbreak.
A four-hour livestreaming broadcast was also organized on Saturday to offer tours "on the cloud" for netizens of key cultural heritage sites, archaeology sites, and museums not only in Guilin, but also in Beijing, Shanghai, Hubei province, Shaanxi province, among others.
To mark the special day, season three of documentary If National Treasures Could Talk will be released by China Central Television on Saturday night. The previous two seasons of the documentary, using humorous tone to explain milestone Chinese cultural heritages through short videos, were overwhelmingly welcomed online.