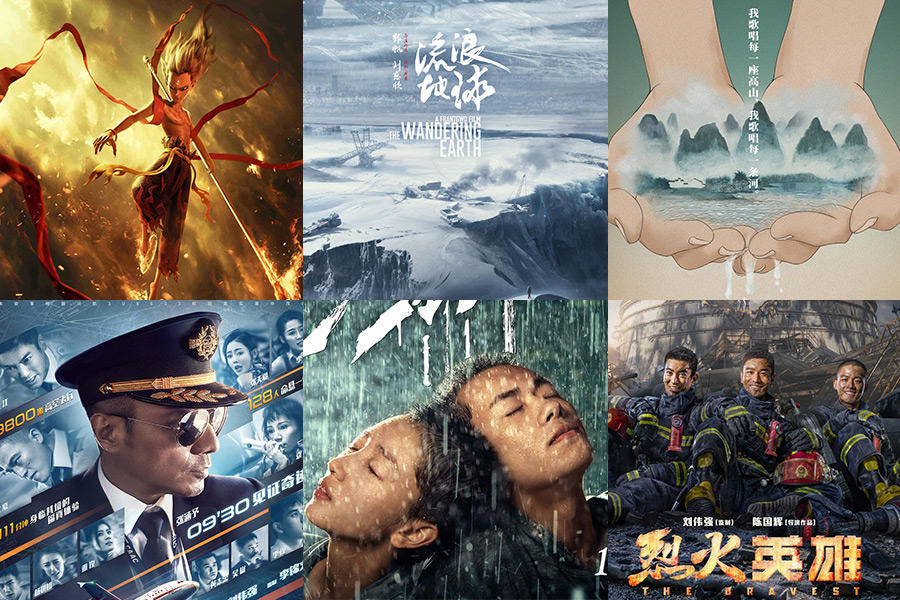 Posters of six films on the list. [Photo/Mtime]
Editor's Note: Despite the "cold winter" theory stemming from the lackluster start of 2019, China's film industry has come through with a chain of homegrown blockbusters and impressive revenues. On Dec 6, the Chinese annual box office crossed the mark of 60 billion yuan ($8.53 billion) — 24 days earlier than the previous year according to China Movie Data Information Network.
At present, 78 pictures exceeded 100 million yuan ($14.22 million), and among these 15 grossed over 1 billion yuan ($142.2 million) and 6 over 2 billion ($284.5 million). In the last fortnight of 2019, highly-anticipated films like Star Wars: The Rise of Skywalker and Ip Man 4 will be screened in the Chinese mainland. So the annual box office total is waiting to be unveiled.
Eight of the top moneymakers are domestic productions, such as the phenomenal Ne Zha, the sci-fi saga The Wandering Earth and romantic crime coming of age film Better Days. To celebrate the 70th anniversary of the founding of the People's Republic of China, two high-profile pictures My People, My Country and The Captain seized a considerable market share. Moviegoers in Shanghai, Beijing and Shenzhen contributed most to the national box office.
Here are the 10 highest-grossing films in 2019 thus far. Which is your favorite? What are your expectations for Chinese cinema in 2020?