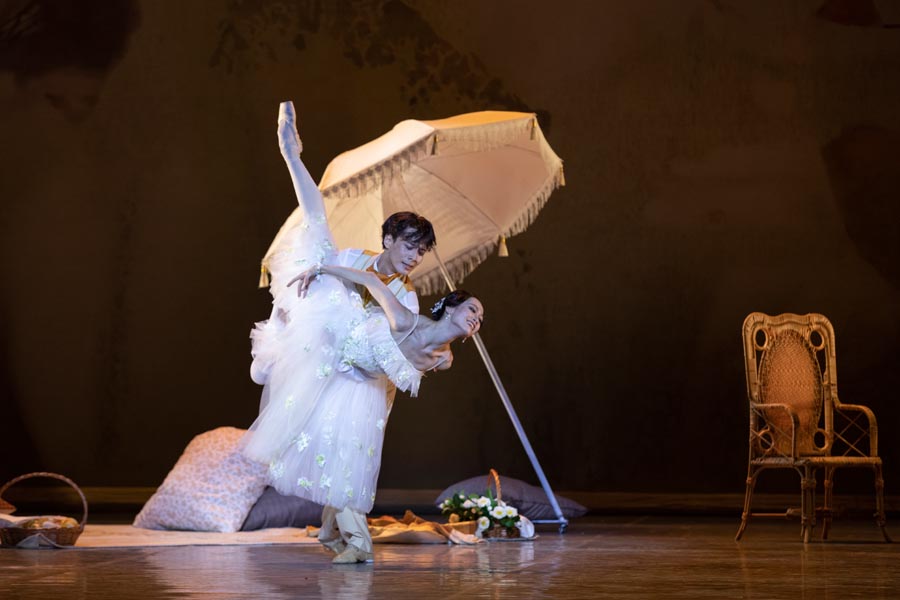 Scenes from the Shanghai Ballet's new production The Lady of the Camellias. [Photo provided to China Daily]
"I just wanted to give the audiences my best performance when the curtains came up for one of the last shows of the China Shanghai International Arts Festival. I am glad I did it," said Wu, who performed despite hurting his lower back just two days before the premiere.
"These sudden injuries are hard to avoid, because we are dancing on a daily basis," he says, adding that Qi, who he frequently plays pas de deux with, was instrumental in helping him to ensure the performance went smoothly.
Deane, the 66-year-old acclaimed British dancer and choreographer who has in the past 14 years created six productions with the Shanghai Ballet, explained his approach to portraying Marguerite in the production.
"I was intrigued by all the characters, especially Marguerite. She is a complicated character and I thought that it was important to bring out her many facets, including her calculating and fickle side. She understands love is one thing and survival is another," he says.