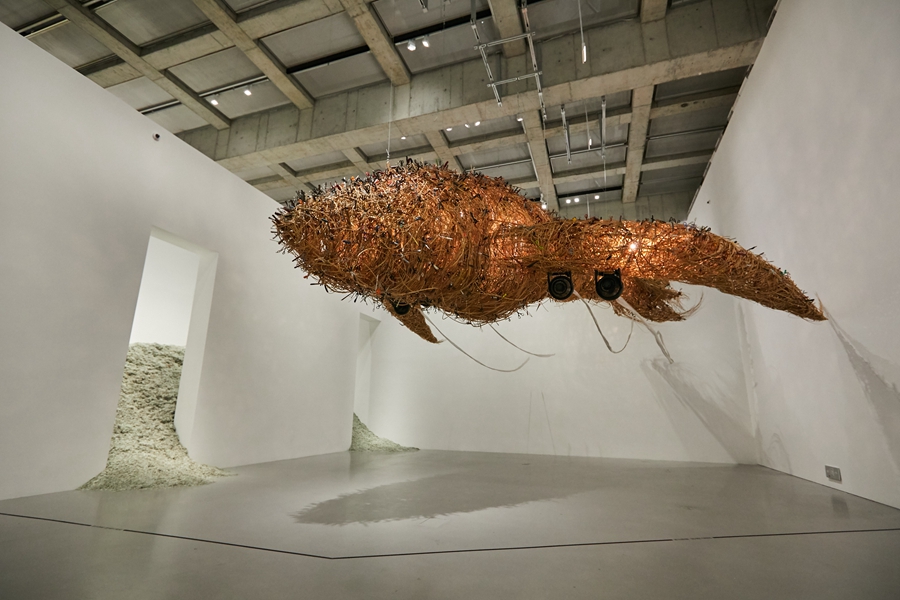 an installation by Chinese artist Cai Guoqiang, Bon Voyage.[Photo provided to China Daily]
Another exhibition that is currently taking place is Observations-Highlights of the Centre Pompidou New Media Collection. Presenting 16 key works by 15 artists, the exhibition focuses on the development of new media art in a 900-square-meter space. The new media collection of Centre Pompidou, which was established in the mid-1970s before the building was launched in 1977, comprises about 3,000 works spanning videos, audiovisual installations, sound recordings and works involving interactive digital technology.
The West Bund Museum features a sound-proof dark room where audio artworks from the Centre Pompidou collection are presented every day. There is also a cinema space for the projection of videos and films that can easily be adapted into a conference and lecture hall.
On the same floor is the Creativity Gallery, a zone designed by Freaks Architecture firm that features three areas: playground, workshop and studio. The playground is an interactive space catering to children under the age of 6 and their caretakers. Every year, the Centre Pompidou will invite two contemporary artists to create artworks that children can play in. The first project featured there is Gravity by Chinese artist Shen Yuan which consists of large objects made of cloth, wool and other soft materials.
The museum opening and the Pompidou exhibitions were among many other art events that were taking place during the week. From Nov 7 to 10, The West Bund Art and Design Fair took place, drawing more than 100 galleries and art institutions from different countries.