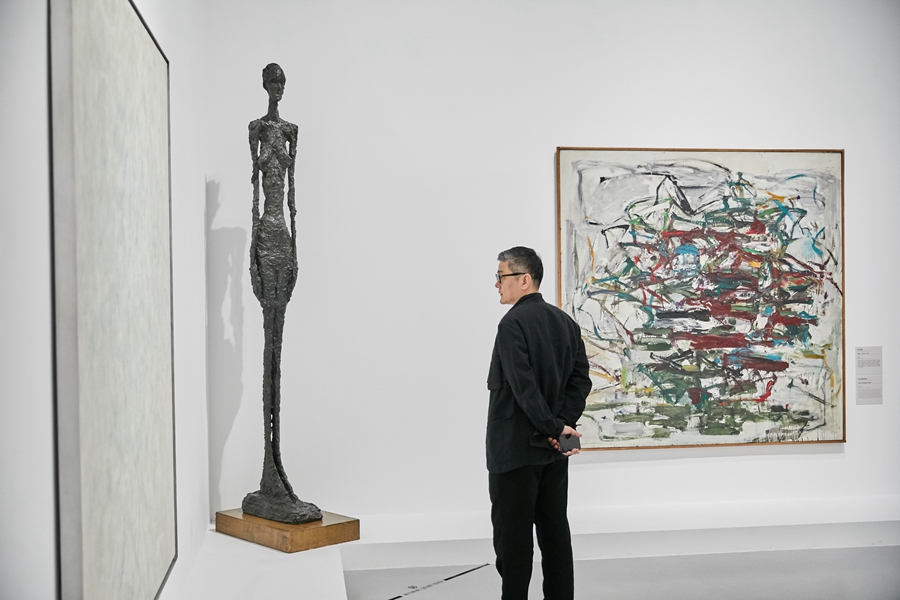 A visitor views an artwork of the ongoing exhibition at the West Bund Museum.[Photo provided to China Daily]
For the opening exhibition at the West Bund Museum, more than 100 major art pieces from the MNAM's vast collection of about 100,000 works were presented.
Titled The Shape of Time-Highlights of the Centre Pompidou Collection Vol I, the exhibition "traverses both the 20th and 21st centuries as an introduction to the identity of the Pompidou collection," according to Bernard Blistene, head of MNAM.
While most of the artworks are from Europe, the exhibition also features a number of Chinese artists such as Zhang Huan, Cai Guoqiang and Chinese French painter Zao Wou-Ki.
Cai's installation at the exhibition is a plane made from recycled cables that hangs mid-air in the exhibition hall. Visitors will find knives, scissors and other sharp objects, all of which were confiscated at the Sao Paulo airport because they were deemed hazardous to flight safety, piercing the body of the plane.
Marcelle Lista, the curator of the exhibition, described the installation as a metaphor for the globalized world that addresses the dangers and complications of security inspections in international flights.