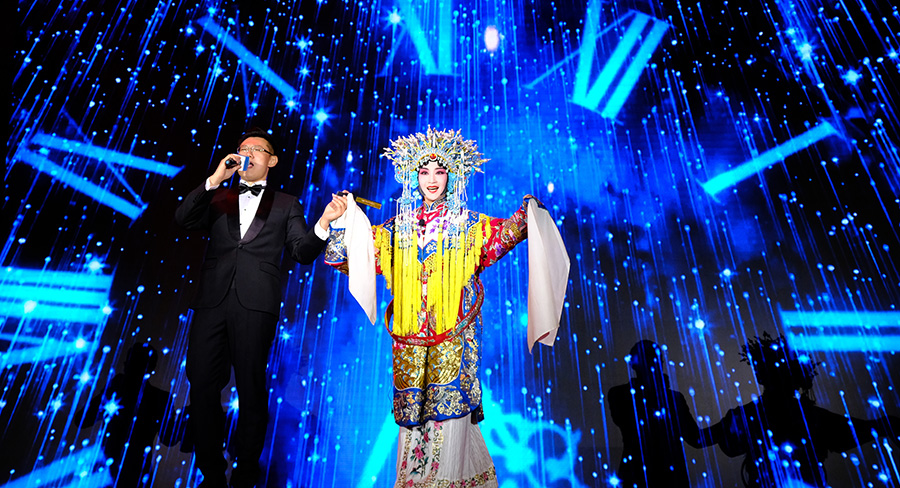 The lead actress of Peking Opera masterpiece The Drunken Beauty and a male opera singer perform When East Meets West at the opening ceremony for the 6th Qianmen Historical and Cultural Festival in Beijing on Nov 1, 2019. [Photo by Yang Xiaoyu/chinadaily.com.cn]
Visitors to the festival can learn about the hub's long-standing history and experience its contemporary art through a number of exhibitions. A raft of pop-up stores showcasing handicrafts and cultural creative products born out of cultural heritages from around the country should also not be missed.
For example, a pop-up store named after Li Ziqi, spiced up the thoroughfare steeped in history and culture and attracted much attention. Li, a big-name influencer with a following of more than 60 million on social media, is long famed for promoting traditional Chinese cultures.
Visitors to the store can appreciate a slew of handicrafts once featured in Li's viral videos, such as the cloth dyed by natural pigments, oil-paper umbrellas, and the four treasures of the scholar's study. They can also purchase the spicy sauce from Li's hometown, Southwest China's Sichuan province, as gifts for family and friends.
Meanwhile, visitors can check out "WanzhuanQianmen" (Explore Qianmen), a mini program on WeChat, China's most popular messaging app, to discover a full-package guideon tours, entertainment and restaurant choices.
Close to the Forbidden City and the Tian'anmen Square,QianmenDajie (thoroughfare) is arguably the most famed historical block along Beijing's axis since the Yuan Dynasty (1206-1368).