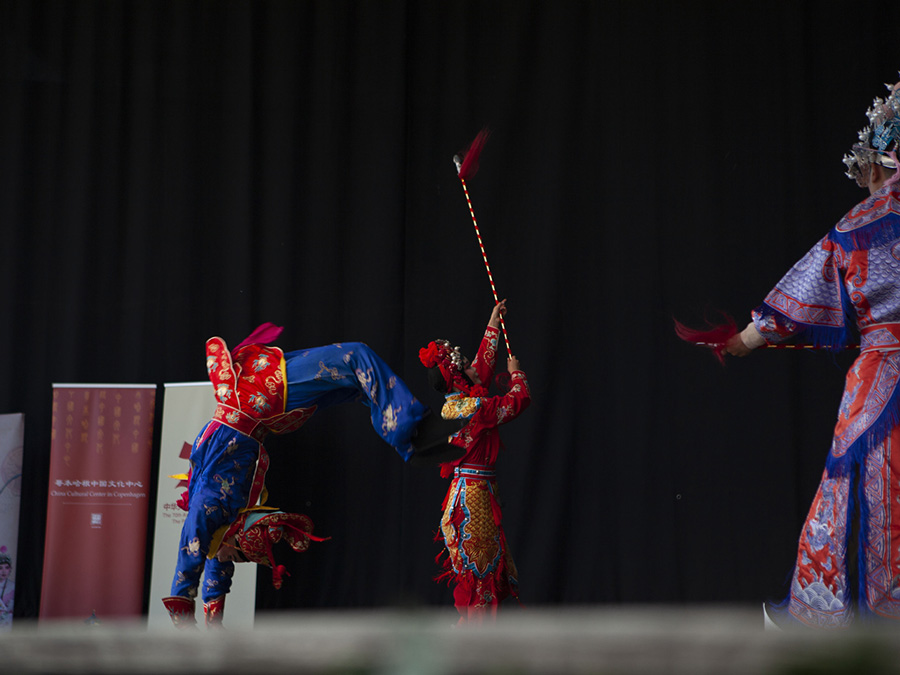 A Chinese Min Opera performer does a somersault during a show at the Copenhagen Opera Festival 2019 in Tivoli Gardens, Copenhagen, Denmark, on Aug 3, 2019. [Photo/Xinhua]
Meanwhile, ling zi, the long pheasant tail feathers worn on warriors' helmets in Chinese operas, was another element that enthralled the local audience as when ling zi is dexterously moved in certain ways, it can serve as an important vehicle to convey the character's expressions and emotions.
A visitor to the festival said she drove for over an hour from her home in the suburb of Copenhagen to watch the Min Opera performance, which she said was fantastic.
A Chinese Danish of Fujian ancestry took his whole family to the festival to alleviate his nostalgia by appreciating the opera performed in his hometown dialect.
"Our performance in Denmark is a theatre exchange between the Oriental and the Occidental. In doing so, we can enable more people to know about traditional Chinese opera and the charm of Min Opera as an intangible cultural heritage," Zhou said.
Initiated in 2009, Copenhagen Opera Festival is an opera carnival held in every August, a time when the sounds of opera ring out over the streets, the underground and the canals of the country's capital.
It takes the opera out of the traditional theatre, creating a space for opera where the tradition and innovation, fresh talents and experience can come together.