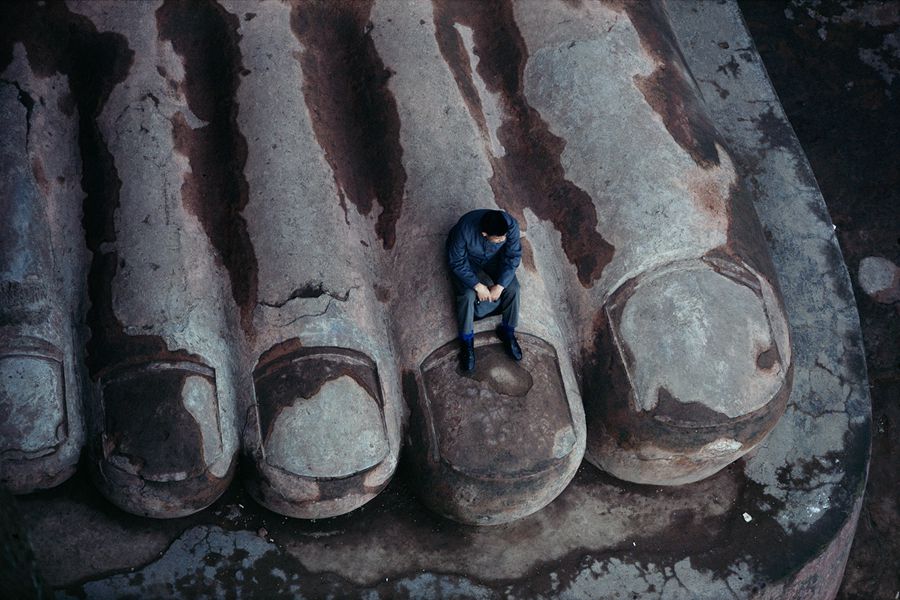 Photo taken in 1980 shows a man sitting on a foot of the Leshan Giant Buddha in Sichuan province.[Photo by Jiang Dong/China Daily]
A new show by French photographer Bruno Barbey plots four decades of development in China, uniquely etched in time thanks to the deep hues of Kodachrome film, Lin Qi reports.
How surprising would it be to discover that a snapshot of a precious childhood memory had been preserved for nearly four decades by a stranger on the other side of the world?
A year ago, Li Zhao, a woman from Shanghai who is based in New York and Miami in the United States, spotted herself in a photo taken by French photographer Bruno Barbey in 1980. The photo shows a class of young students diligently practicing the accordion at the Shanghai Children's Center, and Li instantly recognized the girl in the upper left corner as herself.
Barbey recalls how Li sent him the photo in an email, asking if she could have a print of it.
"I replied yes, on the condition that she would send me a recent photo of herself."
So Li did just that, and emailed back a photo of herself attending a party in Palm Beach in 2016.