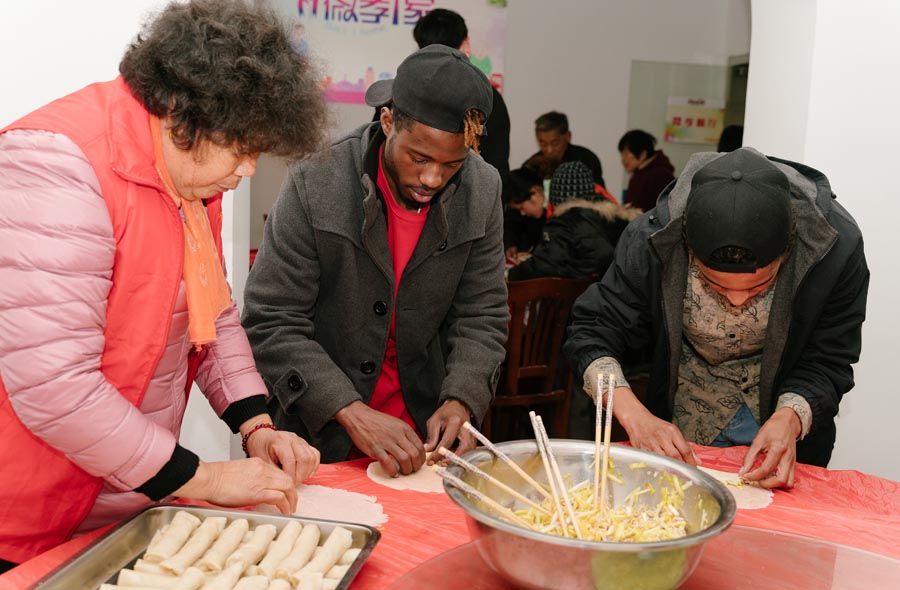 Lao Ma learns to make spring rolls. [PHOTO BY HUANG ZHE/FOR CHINA DAILY]
As of now, he has released 92 videos, and has won more than 25 million thumbs-up, and the number of his fans is 2.92 million.
In order to make more interesting short videos, Lao Ma brainstorms with his team every day and recreates "small encounters" he has in his daily life in China.
And through the scripts, roles, shooting, editing, soundtrack and subtitles, he shows his understanding and love of Chinese culture.
Since he has become popular, he also uses his leisure time to integrate into local cultural and sporting activities; study traditional arts such as paper-cutting and calligraphy and learn to cook Chinese food items such as wontons and fried spring rolls.
Lao Ma says that he will not only add more elements of Chinese culture, but also bring in African songs and dances in his new videos.
In the future, he wants to be a professional actor and chase his "Chinese Dream".