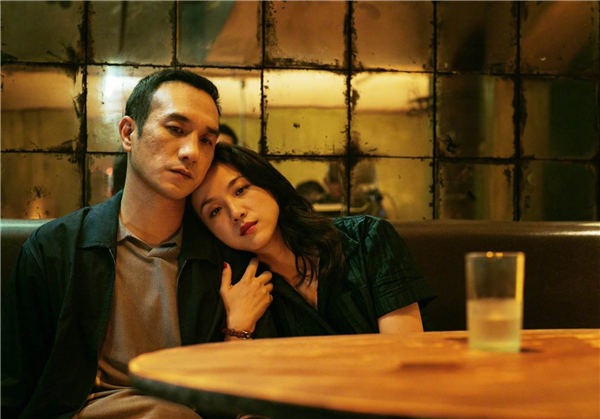 A still image from the film, Long Day's Journey into Night, starring Huang Jue (left) and Tang Wei. [Photo provided to China Daily]
When film stars Huang Jue and Tang Wei were lying on wild grass to shoot a kiss scene involving their characters in the new Chinese film, Long Day's Journey into Night, the sound recordist heard the actor's heartbeat quicken.
The moment displayed Huang's nervousness, but the film's director Bi Gan helped him relax with Erguotou, an alcoholic beverage.
"It felt like some little birds were hopping around my chest (before the drink). The recordist laughed and told some other crew members. I guess I'm famous for that now," Huang joked at the film's media preview in Beijing on Monday.
The film, which will be released on New Year's Eve, had made 104 million yuan ($15.1 million) in presale bookings by Wednesday, scoring a new record for arthouse films released in China. The figure exceeds even those of Hollywood blockbusters, such as Transformers: The Last Knight and the superhero film, Venom.
The kiss is playing a decisive role in the commercial success of Long Day's Journey into Night. The promotional slogan encourages moviegoers "to welcome the new year with a kiss". Some theaters have scheduled to screen the film at 9:50 pm on Monday, so the credits will roll at midnight. This is drawing lovebirds, who wish to celebrate the new year in a special way.
But the kiss scene that spans mere seconds is probably not the most significant part of the film, which won for the best sound, original music and cinematography at the Golden Horse Awards in Taiwan last month.
The film got international attention earlier this year when it was shortlisted as a contender for Un Certain Regard, a category of Cannes' awards that honors young talent and films shot in nontraditional ways. The film has been critically acclaimed in particular for an hourlong take that starts around 70 minutes after the story begins and continues until the end. The scenes were shot after many months of rehearsals with around 200 cast and crew members.
Usually, a long take-a cinematic term referring to shooting consecutive sequences without stopping the cameras-is regarded by critics as an index to judge a film's artistic quality.
Such masters as Ernst Ingmar Bergman, Akira Kurosawa and Hou Hsiao-hsien have used long takes in their films.