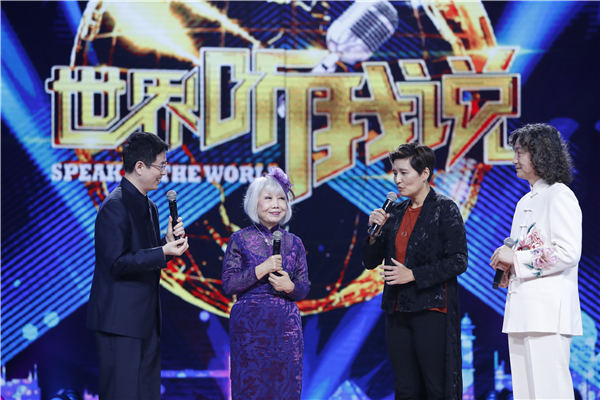 Victoria Yung-Chih Lu (second from left), a Chinese-American art exhibition curator, is among 60 guests on the TV show Speak to the World, which displays achievements by overseas Chinese in the past decades. [Photo provided to China Daily]
The third season of the TV series on overseas Chinese tells their stories in a more compelling manner than the previous two.
When 56-year-old Chinese American IT engineer Rob Chang performs for the TV show Speak to the World, his broken Mandarin is not enough to support him to finish a short speech. He switches to English in the middle.
As someone who grew up in Silicon Valley, California, Mandarin was not his first language, but when he shares his family's experiences, no one can doubt his affection for his country of origin.
He is grandson of Zhang Xueliang, also spelt as Chang Hseuh-liang (1901-2001), a Kuomintang general who tried to get Chiang Kaishek to forge an alliance with the Communist Party of China to fight Japanese aggression in 1936.
For his efforts, the general was detained over the next 50-odd years.
Then, Rob Chang's father, who was born in Tianjin, was sent to the United States at the age of 8. And he was raised by a local family in San Francisco with his birth parents' true identity hidden for a long time.
Speaking about his life, Chang says: "I think it is very important for overseas Chinese to understand their roots and the long history of China.
"And as the world is moving forward, the next generation should also know from where we've come."
After being encouraged by his grandfather, who was always "optimistic and peaceful", Rob Chang visited the Chinese mainland and studied at Peking University.
More such stories from overseas Chinese are featured in the new season of Speak to the World, which recently began showing weekly on China Central Television.
In the show, Joan Chen, the 57-year-old Chinese-American actress best known for her role in 1987's Academy Award-winning film The Last Emperor, says she was afraid of the stage, and once wanted to escape from cinematic circles because of her timidity.
But she conquered her weakness and grew to be a successful film producer.
Chen, who is among the first generation film stars from China after the reform and opening-up started 40 years ago, later migrated to the US, and is seen as a cultural ambassador between the two countries.
Then there's Lisa Lu, 91, who presents her story of growing up in a traditional opera family in Shanghai and becoming a prolific actress, who is widely respected in Hollywood.
Meanwhile, the appearance of Liu Shaolin and Liu Shao'ang, the half-Chinese half-Hungarian brothers who recently won the first Winter Olympic Games gold medal for Hungary since 1994, adds a touch of comedy to the show with their Mandarin spoken in strong Northeast China accent.