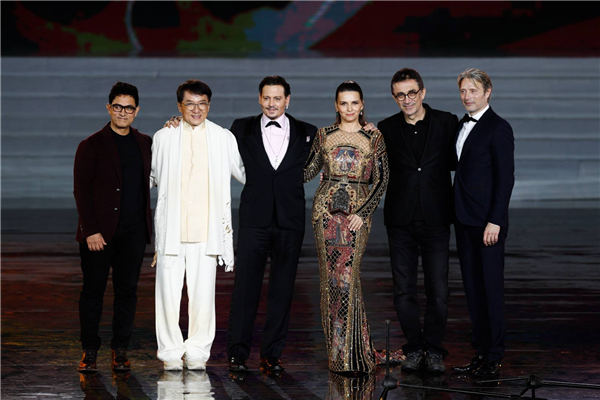 The first Hainan International Film Festival gathers a bunch of A-list celebrities, such as (from left) Aamir Khan, Jackie Chan, Johnny Depp, Juliette Binoche, Nuri Bilge Ceylan and Mads Mikkelsen. [Photo provided to China Daily]
With a bunch of top international stars in attendance, the recently concluded Hainan International Film Festival has gripped the rest of the world.
Its masterclasses, which ran from Friday to Sunday, were arguably the biggest highlight of the weeklong event, where A-list celebrities such as Johnny Depp, Juliette Binoche, Nuri Bilge Ceylan, Aamir Khan and Isabelle Huppert imparted their wisdom to a gripped audience.
Award-winning Turkish director Ceylan opened the program and shared his experience and tips on filmmaking.
Born in Istanbul in 1959, Ceylan shot to fame with his directorial debut, Cocoon, the first Turkish short film to be selected in a competition section of the Cannes Film Festival.
However, it is a string of his following films-especially the Palme d'Or winner, Winter Sleep (2014)-that have established his reputation as a master of Turkish cinema.
"For me, filmmaking is like an investigation; an examination of myself and the people I've known very well," says Ceylan during his masterclass.
Most of Ceylan's films employ a small crew, with the actors comprising mainly friends or relatives. His films are reviewed as being full of poetic depictions that arouse deep thoughts about Turkey and its people.
But even for an internationally acclaimed filmmaking master, Ceylan says it still feels painful to launch a new film, and the most challenging parts are writing the script and the shooting.
"People usually say filmmaking is a collaboration, but I always feel lonely because nobody understands my creative vision like I do," he says.
Feeling isolated from the rest of the production, whether in the limelight, or behind the scenes, is probably a shared anxiety.
Arriving around 4 am at Sanya airport on Saturday, Depp-who wore a pair of sunglasses and looked a bit tired-followed Ceylan, to open up on his joys and fears in a candid retrospective of his 30-year acting career.
As one of the highest-paid superstars in Hollywood, Depp is familiar to Chinese fans for his role as Jack Sparrow in the Pirates of the Caribbean films. He recently impressed local audiences as the titular dark wizard in David Yates' blockbuster Fantastic Beasts: The Crimes of Grindelwald.