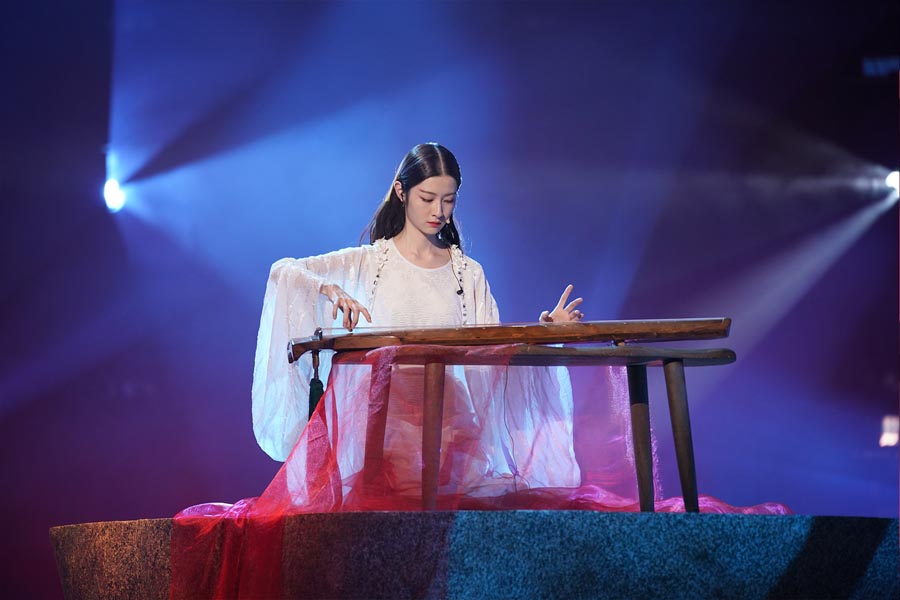 Performance of guqin, a 3,500-year-old musical instrument. [Photo provided to China Daily] 
However, a more professional evaluation of the content of each performance is also needed, because being an arbiter of guofeng requires a lot of background knowledge.
A scholar on ancient Chinese literature and history, called Guofeng Man, whose true identity is kept secret, has the final say when any controversy occurs.
For instance, if a contestant makes a mistake in their lyrics on some historical point that would normally be considered common knowledge, Guofeng Man will suggest a lower rating on the basis that "promoters of traditional culture should be responsible for the content they present".
While the aim is to create a more entertaining atmosphere, a rigorous attitude cannot be absent, Wang points out, and he confesses it is challenging.
A former producer with China Central Television, Wang is probably best known for Everlasting Classics, a variety show that adapted ancient Chinese literature into songs.
Though the show was welcomed with overwhelmingly positive reviews, Wang decided to leave CCTV so that he could have a greater level of interaction with young netizens.
"Everlasting Classics was highly-acclaimed," he says. "It has such high taste and uses the most orthodox way to make sure everything is professional. However, it also means we'll lose the attention of a wider audience."
It was this realization that led him to create something with a different atmosphere, and thus, The Chinese Youth was born. An example of this change in mindset can be seen when Song Fangyuan, a female performer with strong interest in guofeng, admits that she lacks enough knowledge of traditional Chinese culture. However, Wang still gives her the green light to step on the stage.
Wang believes Song's sincerity can encourage more young people to follow her lead and join the team that speaks up for traditional culture.
But, as it is often said, you cannot please everyone, and his new attempt has drawn some criticism online. On Douban.com, China's most popular film and TV review website, some users describe the show as more of a "cosplay show" than something that deeply explores spiritual values.