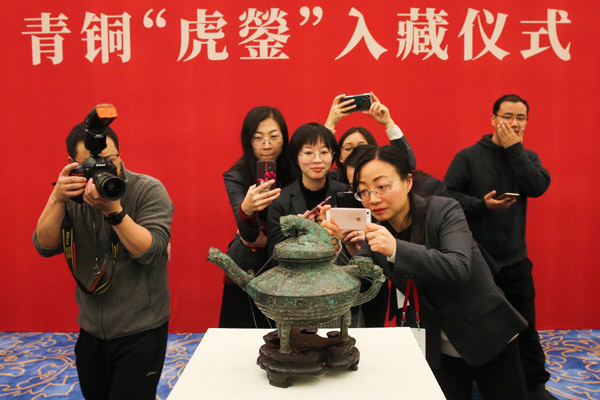 Journalists and National Museum of China employees crowd around a tiger-topped bronze relic that dates to the late Western Zhou Dynasty (c. 11th century-771 BC). The relic was returned to the museum on Tuesday after being lost abroad for more than a century. [Photo by Jiang Dong/China Daily]
Low-profile preparations for its return began in June through multiple channels. It was returned to China's custody on Sept 21 and remained in the Chinese embassy until it was moved to Beijing on Nov 23, according to a release at Tuesday's ceremony marking its move to the National Museum of China.
"Its journey back home is a milestone in our efforts to repatriate lost treasures from overseas," Liu said. "It fully shows our responsibility to protect our country's cultural heritage, and may contribute more wisdom about handling similar issues."
China has signed bilateral cooperation agreements with 20 countries on repatriating illicitly exported cultural relics.
"Different social efforts will help bring more treasures home," he said, adding the work will be done "in good order".
Only eight ying artifacts are known to exist, according to Sun Ji, 89, a veteran archaeologist who participated in appraising the artifact.
"And no other one is so intact," he added. "The vividly portrayed tiger sculptures and exquisite patterns are also incomparable."
Sun said it was used for sacrificial rituals in the Western Zhou period. People burned liquor for the gods to "smell". The ying probably was a holder for spices that were combined with alcohol.
Still, Wang Chunfa, director of the National Museum of China, said the rarely seen artifact needs more academic study to unveil its hidden stories.
"We'll launch in-depth research and design its exhibition to make its significance fully clear," Wang said. "It will also strengthen people's cultural self-confidence."
In 2013, two bronze animal head statues from the Old Summer Palace-the rabbit and rat from the Chinese Zodiac-were returned from France and moved to the museum. The two artifacts, part of a fountain, were also looted in 1860.