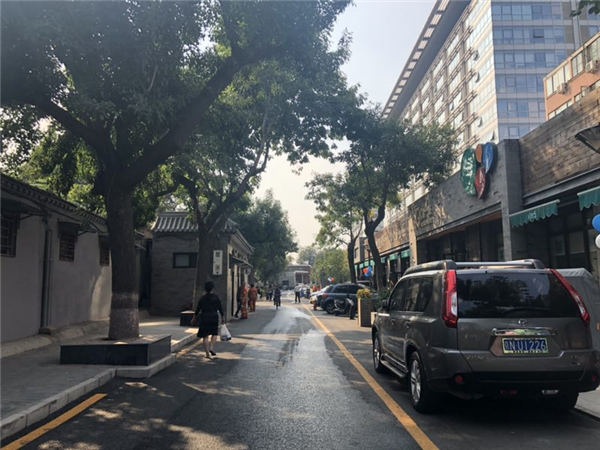 Qinglong Hutong looks clean and well in order after the yearlong first phase of a renewal project. [Photo by Li Yingxue/China Daily]
A year ago, cars and bicycles were parked messily in the alley under numerous cable wires hanging in the air along Qinglong Hutong, but now everything is in order.
From the cool black sign at the entrance of the hutong (traditional alleyways) to the flat asphalt road, the residents of Qinglong Hutong have seen fundamental changes in their neighborhood over the past year.
The ribbon-cutting ceremony of the Qinglong Hutong Community Renewal Project was held on Sept 26, showcasing the first phase of the project. Separately, an exhibition was also held from Sept 22 to 29 to introduce the renewal project to the public.
Covering an area of 243,000 square meters, the project includes office buildings by the inner side of Second Ring Road on the northern side of the Qinglong Hutong that runs from east to west, residential courtyard homes on the southern side of the lane, and the neighboring areas of Dongzhimen Beixiaojie and Cangjingguan Hutong, respectively, to its east and west.
The first phase of the project covers the 1.2-kilometer-long main street, including construction of the lane's "outdoor urban living room", optimization of ground space, a garden, and the relocation of overhead power lines underground.
Wang Ning, Beijing's deputy mayor and vice-president of Beijing Design Week, says: "Two years ago, Copenhagen was chosen to be the guest city of the 2018 Beijing Design Week. Since then, both cities have worked closely on urban renewal and cultural creativity, especially for the Qinglong Hutong Community Renewal Project."
According to Wang, the design of the project combines Danish ideas and Beijing's image as an ancient city, and creates "a fresh model of a modern livable community in the core area of the Chinese capital".
Taking advantage of the opportunity offered by Beijing Design Week, the project is anchored on protection of the ancient city, remediation of multiple alleys and refined management of the metropolis.
It also contributes to the hutong-area upgrading in four respects, including community-environment enhancement, infrastructure transformation and life-quality improvement.