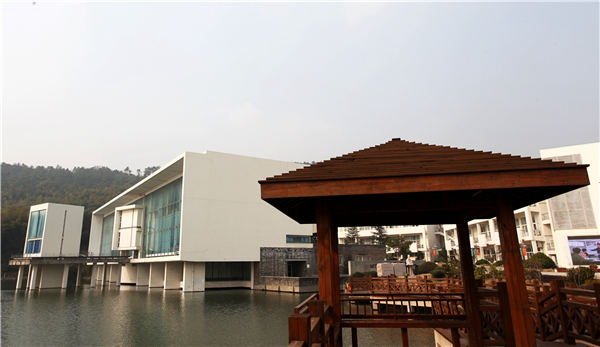 The Xiangshan campus of the China Academy of Art in Hangzhou and a library in Suzhou University are among architect Wang Shu's representative works. [Photo provided to China Daily]
With his flair for integrated architecture, Wang Shu combines his fine eye for detail with a sense of place for every building he plans.
Having to spend days on train journeys between Beijing and Urumqi in the Xinjiang Uygur autonomous region during his childhood, Wang Shu used the time observing and drawing.
Wang, now 55, currently the only winner from China of the Pritzker Prize for architecture, recalled at a recent forum his early experiences of such journeys that have influenced his career.
Seeing the passing scenery shift from urban areas to mountains, forests and rivers, and then into the wilderness and the Gobi Desert during the lengthy train rides, Wang says his mind was broadened and his interest in local architecture had been cultivated since a young age.
And it was since then that he raised his capability for observing things meticulously and calmly. Wang says he was able to delineate all the details attached to even the smallest component on the train, which, in later life, turned out to be of great help to his success as an architect.
Wang addressed the third Sino-French Cultural Forum held from Sept 17 to 20 in Xi'an, Shaanxi province, China's former capital city for 13 dynasties and the starting point of the ancient Silk Road.
The forum was co-initiated by Chen Zhu, vice-chairman of the NPC standing committee and president of the Western Returned Scholars Association, and former French prime minister Jean Pierre Raffarin, in 2015.
The annual forum, first launched in Beijing the following year, is dedicated to promoting cultural exchanges and cooperation between the two countries.
Dialogues involving topics like cultural heritage preservation, education, travel, fashion and design, arts and life were held this year in Xi'an.
"The Sino-French Cultural Forum is a platform for high-level and in-depth dialogue between Chinese and French cultural and art circles," says Christine Cayol, the French vice-president for the forum and founder of the Beijing-based art gallery, Yishu 8.