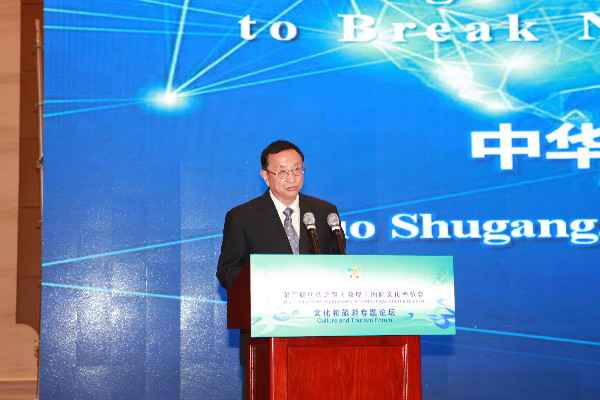 Luo Shugang, Chinese Culture and Tourism Minister, gives the keynote speech during the 3rd Silk Road (Dunhuang) International Cultural Expo Culture and Tourism Forum, on Sept 27, 2018. [Photo by Chen Rong/provided to Chinculture.org]
The Culture and Tourism Forum, which took place Thursday during the third Silk Road (Dunhuang) International Cultural Expo in Dunhuang, Northwest China's Gansu, provided a chance to discuss the future of culture and tourism as well as cooperation among countries involved in the Belt and Road Initiative.
Chinese Culture and Tourism Minister Luo Shugang attended the event, along with culture and tourism ministers from seven other countries. Other participants in the discussion included the heads of several international cultural and travel enterprises, such as The Walt Disney Co, Thomas Cook and Worldland.
During the keynote speech, Luo emphasized the close relationship between culture and tourism, as well as China's work in strengthening the two sectors.
"Culture is at the heart of tourism. Engagement with local culture helps satisfy tourists' needs for new knowledge and experiences," Luo said. "Tourism provides opportunities for cultural exchange, as tourists can access the delights of local values, traditions and philosophy when they meet locals and explore the destination."
After forming the Ministry of Culture and Tourism, the Chinese government has carried out a top-tier design for promoting culture and tourism sectors, aiming to offer more quality cultural content and travel products.