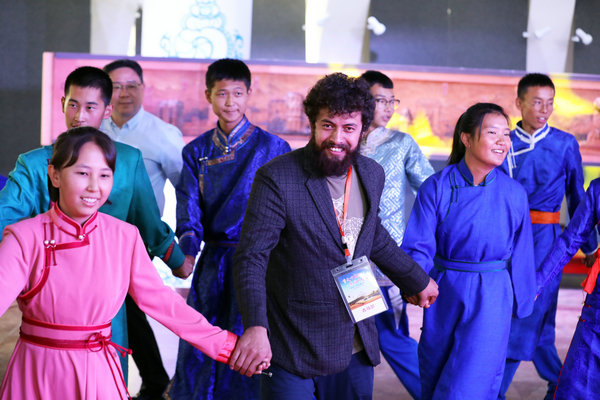 Nepalese student Kumar Khadka learns an Inner Mongolian dance together with local students in Ordos of North China's Inner Mongolia autonomous region. [Photo by Zhu Xingxin/China Daily]
Kumar Khadka is the center of attention on a tour of some of the ancient Silk Road sites in late August.
His thick curly hair and beard set the 28-year-old from Nepal apart from his peers from countries like Kazakhstan, Laos and Vietnam, as well as members of a think tank from Peking University.
All of them joined the trip, a part of the ancient Silk Road tour initiated by the Chinese People's Association for Friendship with Foreign Countries, which aims to promote trade and cultural exchanges.
The tour kicked off in Beijing in late August and will end on Sept 29, after covering significant sites in seven countries-China, Kazakhstan, Uzbekistan, Poland, the Czech Republic, France and the Netherlands.
"People tease me and say that I look a lot like Karl Marx," says Khadka, who enjoyed the distinctive elements of Chinese culture during the six-day road trip from Beijing to Dunhuang, in the northwestern Gansu province.
He enjoyed listening to the horse-head fiddle, and admired the hide carvings and ethnic dancing during his stay in Ordos, Inner Mongolia autonomous region.
"I'd heard of Inner Mongolia before, but it's amazing to experience the culture there," he says.
"The hide carving was exquisite and dancing with local Mongolians was great fun," says Khadka, who is currently studying Chinese philosophy in Beijing.
The Mogao Grottoes in Gansu province, the art performance and the lecture on the ancient history of Dunhuang also impressed him.
"The tour helped me discover more about China," says Khadka.
"Earlier, I thought Inner Mongolia was all desert and yurts, but there are so many green spaces and modern buildings there."
Curiosity about China planted the desire in him to learn Mandarin back in 2010.
"Many Nepalese didn't know China so well back then, and I was intrigued by this big neighbor when I saw it on the map," says Khadka.
He developed a working knowledge of Chinese after spending three years studying it at the Tribhuvan University in Kirtipur, Kathmandu, the capital of Nepal. And then, an opportunity to study Mandarin in China came his way.
He applied for a two-year master's program of teaching Chinese to speakers of other languages at the Beijing Language and Culture University via the Confucius Institute, and was accepted in 2013 with a full scholarship.
"This was the only way for me to fully learn Chinese history and culture," he says.
"Then I can maybe go back and teach what I've learned to people at home."
The language program helped him master Chinese after he completed it in June 2015.
Khadka, who has passed the HSK 6-the highest level Chinese language test designed for non-native speakers-now speaks Mandarin fluently.
After finishing the master's program, he decided to take a break and use his language skills to experience Chinese culture.
So, Khadka chose to spend some time in the Xishuangbanna Dai autonomous prefecture of southwestern Yunnan province.