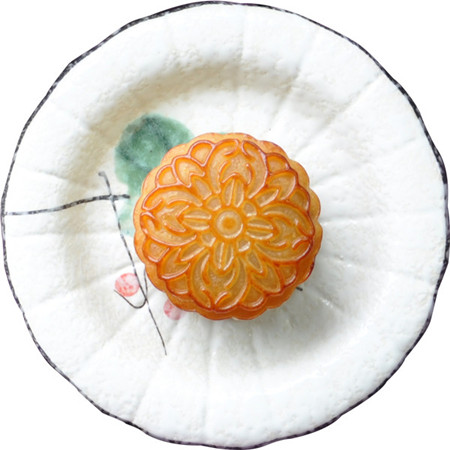 A moon cake by Sheraton Grand Beijing Dongcheng Hotel. Moon cake is a symbol of family reunion for its round shape. [Photo provided to chinadaily.com.cn]
We all know that moon cake is the most traditional and important food of the Mid-Autumn Festival. The deliciously filled cake is round in shape like the full moon, which is a symbol of prosperity and family reunion.
As a tradition, families also eat other round-shaped foods during the festival dinner for good luck. Let's take a look at some of the auspicious round bites to get your luck going.
Pomelo is not only round in shape, its Chinese name, you zi, is also a homophone for words that mean "bless the son."
Watermelon is a symbol of fertility for being full of seeds and also a symbol of family reunion for its round shape.
Mid-Autumn Festival falls among the harvesting season of lotus root and the round lotus root slice is a sign of family reunion.
Pomegranate is another pleasant and colorful round fruit.
Steamed pear is a seasonal dish which is believed to be good for the lung in autumn.
Autumn is also the best time to have pumpkin.
Grapes become its sweetest around the Mid-autumn Festival. Take the last chances and eat more!
Glutinous rice wine with rice ball is a lovely boozy Chinese dessert.
The tradition of eating taro on Mid-Autumn Festival dates back to the Qing Dynasty (1644-1911) but the meaning of eating taro differs from different Chinese regions. One of them believes that eating taro during Mid-Autumn Festival can ward off the evil spirits.