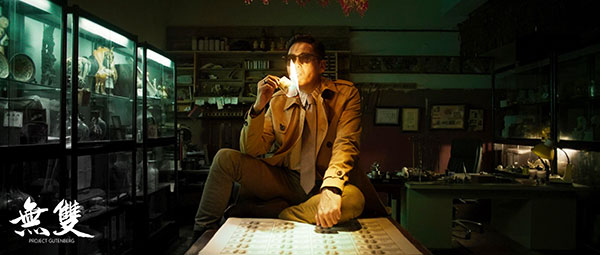 Chow Yun-fat headlines the upcoming crime thriller Project Gutenberg. [Photo provided to China Daily]
Two iconic stars of Hong Kong cinema, Chow Yun-fat and Aaron Kwok are to headline an upcoming crime thriller, Project Gutenberg, which will hit Chinese theaters on Sept 30.
The new film, written and directed by Felix Chong, a veteran filmmaker best known for Infernal Affairs, is about a criminal ring, which masters a technology to produce counterfeit banknotes across the world.
Chow stars as the head of the criminal ring and Kwok plays a painter, who is lured by Chow to work for him.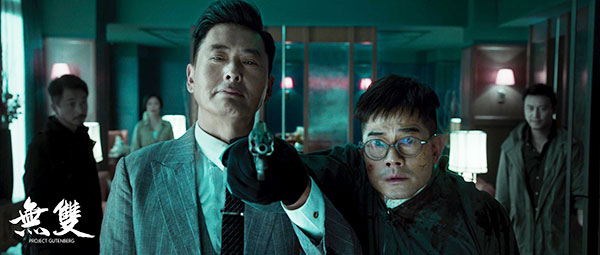 The upcoming film which will debut on Sept 30 marks the latest cooperation of Chow Yun-fat (left) and Aaron Kwok on big screen. [Photo provided to China Daily]
The film features a lot of action sequences and was shot in Hong Kong, Canada and Thailand.
"I haven't play such a (villainous) role for a long time. It was very exciting," says Chow.
In his acting career spanning more than 40 years, Chow has starred a number of movies and TV series, including Ang Lee's Oscar-winning Crouching Tiger, Hidden Dragon. But most of his characters were heroes.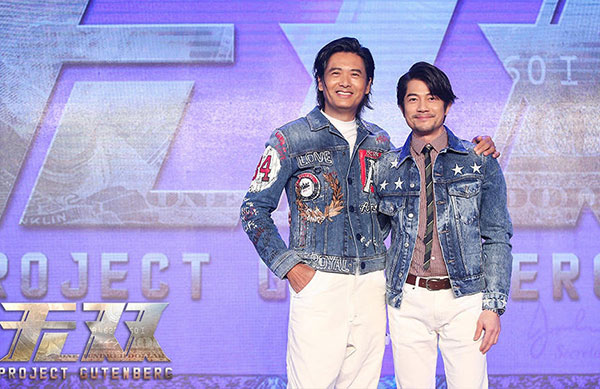 Chow Yun-fat (left) and Aaron Kwok promote the forthcoming film Project Gutenberg in Beijing on Aug 2. [Photo provided to China Daily]