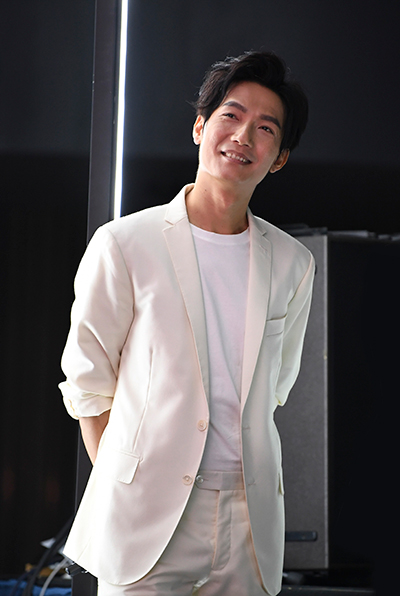 Chen Chusheng [Photo provided to China Daily]
Last December, Chinese singer-songwriter Chen Chusheng performed at Blue Note Beijing to mark the tenth anniversary of his career, and he is now releasing an album of the concert.
Launched on July 25, the new album Chen Chusheng Live From Blue Note Beijing features ten songs from his live performance in the capital on December 14, 2017.
The new album is also the first one under his latest contract with Universal Music China.
Written and performed by Chen, the ten songs chart the course of Chen's pop career, including one of his most popular hits, Has Anyone Told You, which was born out of his experiences in Shenzhen over a decade ago. Written after losing his girlfriend and his brother was injured in a car accident, the songs express his sadness and confusion.
The song was released in 2007 and won him numerous awards across the country.
"When I performed those songs at Blue Note Beijing last year, it felt like I was reading my old diaries, which were very private and emotional," says the 37-year-old in Beijing. "Ten years on, I know myself better and I am ready to start over again."
The shy singer, who was born in Sanya, Hainan province, received his first guitar from his parents at the age of 16 and began to sing in bars there while he was still in high school.
In 2007, he rose to fame by winning the Happy Boy singing competition produced by Hunan Satellite TV, and quickly became a household name.
The overnight success, however, landed him in trouble with E.E. Media, the management company behind the popular Super Girl and Super Boy reality TV singing shows.
In 2008, Chen filed a lawsuit to terminate his contract with E.E. Media, accusing them of the unauthorized publication of family photos and childhood stories for commercial purposes. In January 2009, he broke with the company and withdrew from the public eye.
Over the past few years, the star worked on building his own recording studio and expanded his career into acting. In the film Forever Young, which was released in January and directed by Li Fangfang, Chen performed alongside actress Zhang Ziyi and actor Huang Xiaoming.
"I can still remember that when I launched my career in 2007, I said in an interview that I wanted to sing for 70 years because I believed music is my lifelong passion. Now, I have spent just spent a seventh of it and still have another 60 years to go," says Chen, adding that his upcoming album featuring new material is scheduled for release at the end of this year.