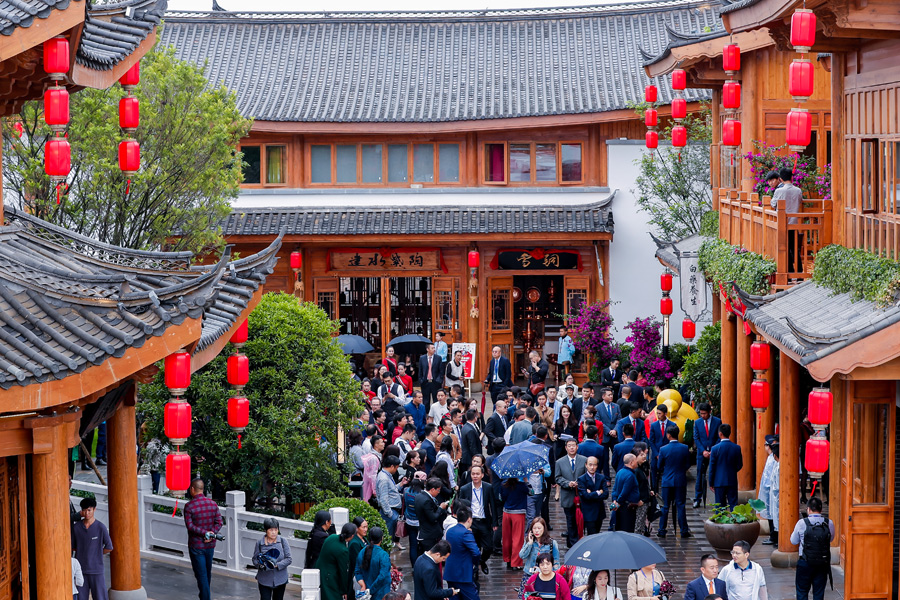 Buildings constructed in the ethnic Naxi style line the 800-meter-long Najie street. [Photo provided to China Daily]
It's located in a 930,000-square-meter resort complex 25 minutes from the 5,600-meter-high Yulong Snow Mountain. The route from the street, which sits at an altitude of 2,400 meters, to the peak hosts rich biodiversity.
A 400,000-square-meter park en route features a sea of flowers-including lavender, roses and tulips that bloom year-round-a circus and a tent hotel under decoration. The complex also contains a 24-hour food court with 20 specialty restaurants that offer local cuisine. Yunnan Cross-Bridge Rice Noodles is a popular eatery that's said to serve the province's most-representative dishes.
The downtown bar street hosts a musical fountain that's best viewed from The Summit, a lounge belonging to Libre Resorts Lijiang, which opened in July. Libre has proven popular, and guests should book in advance, especially if they visit during the peak season from spring to autumn.
Indeed, Najie's ancient traditions are giving Lijiang new allure, as visitors who make the journey discover.