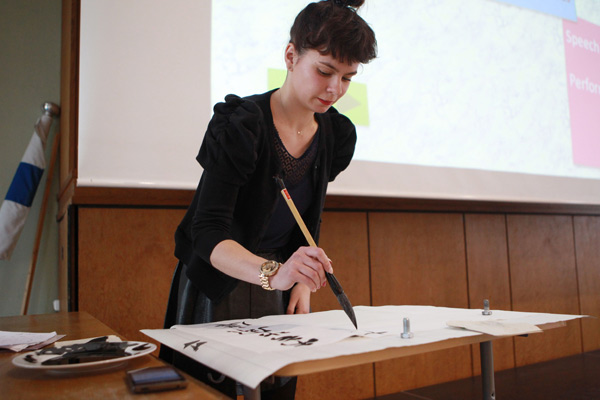 Students learn Chinese calligraphy at a Confucius Institute in Vilnius, the capital of Lithuania. [PHOTO/XINHUA]
Uruguay's Confucius Institute has seen demand expand so quickly that, according to the rector of the University of the Republic, or Udelar, more teachers are urgently needed just three months after it opened its doors.
"We need more teachers because the activity is growing at a breakneck speed," said Roberto Markarian, whose university manages the institute in conjunction with Qingdao University in eastern China's Shandong province.
The Montevideo-based Udelar, a leading university in the Latin American country, currently has around 200 students enrolled in Mandarin classes at both the institute and the Foreign Language Center run by Udelar's Humanities Department.
After the institute began operation in April, to mark the 30th anniversary of diplomatic ties between Uruguay and China, its classrooms filled quickly, reflecting the rising interest in Chinese culture among local students and business sectors.
The Confucius Institute also offers classes for government officials, such as those coming from the National Meat Institute, or INAC, the defense and foreign affairs ministries, and several regional offices.
"It's important to have the heads of INAC learn about Chinese customs," said Markarian, adding that INAC General Manager Ruy Fernando Gil also took classes, as well as other "high-level officials."
Beef is one of Uruguay's leading exports, and according to INAC figures, China buys almost half of the country's output.