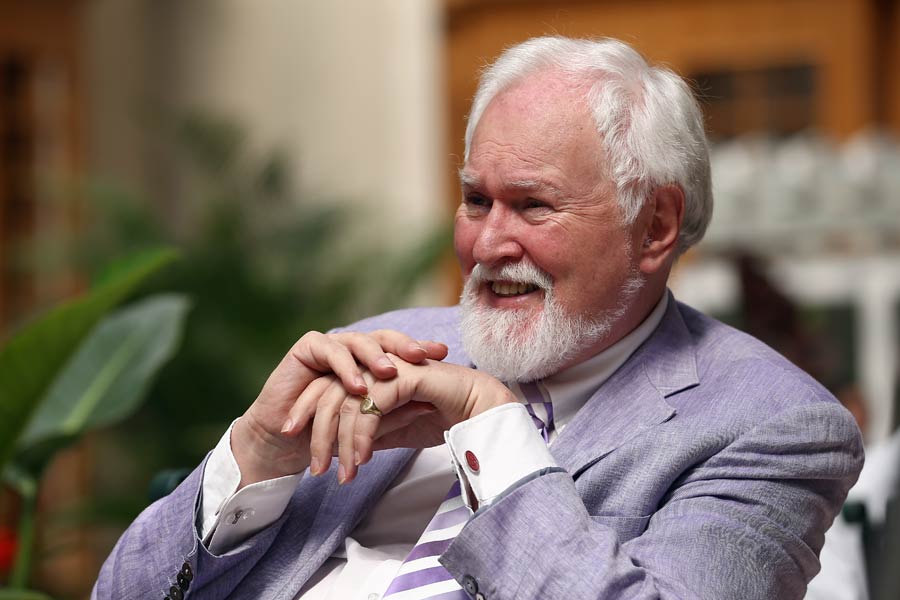 British author and consultant Hugh Peyman's book, China's Change: The Greatest Show on Earth, examines the country's economic miracle. [Photo by Zou Hong/China Daily]
Peyman says the real turning point for China came in 1992 after Deng's now-famous southern tour when he visited cities such as Shenzhen, which were to play a major role in China's manufacturing revival.
"It was the first time there was an understanding that the economy needed a functioning banking system. The economy was becoming too complex for the system of allocation then to function properly."
It is one thing to recognize the problem before putting in place the policies to solve them.
Peyman says he drew on his experience in business to understand how China has actually managed to do this.
"I am essentially a consultant, so I have to have my 20 ideas. So I came up with the 20 approaches that China has taken to deal with its problems," he says, laughing.
These 20 ideas include pragmatism (summed up by Deng's phrase: "It doesn't matter if the cat is black or white as long as it catches mice"), long-term thinking, a 360-degree view (thought should not be stuck in silos), harmony, education, pilot schemes and sequencing.
According to Peyman, sequencing was particularly important to the development of the Chinese banking system from the 1990s onward.
"I think that the Western approach would have been more adversarial, with people on different sides of the argument as to what to do," he says.
"In China it was more a matter of deciding on the best policy and then working out how to make it work through essentially sequencing what needed to be done."
Peyman says that it would be wrong to think that China, which has set major goals right up to 2049 when the People's Republic marks its 100th anniversary, had a monopoly on long-term thinking, as many in the West assume.
"There are many examples of long-term thinking in both the US and Europe in the 19th and 20th centuries. Abraham Lincoln's move to abolish slavery had no short-term advantage. The British electorate threw Winston Churchill out of office after winning World War II because they didn't want a return to the unemployment of the 1920s and 1930s. Helmut Kohl pressed ahead with German unification in the 1990s, despite many people being against it."
Peyman, who was partly brought up in rural Herefordshire in the UK, read philosophy, politics and economics at Oxford, after which he spent time in Africa.
This led to him writing a book, The Great Uhuru Railway: China's Showpiece in Africa, with Richard Hall on the China-built Tanzam Railway from Kapiri Mposhi in Zambia to Dar es Salaam in Tanzania, which opened in 1975.
"I met Dick Hall in early 1974. I did all the travel and he did all hard bashing, dealing with the politics, which supplied the most interesting part of the book," he says.
He started working as a journalist with Reuters in London before moving to Hong Kong, which has led him to spend more than 40 years in Asia.
Peyman eventually moved into investment research, working in senior positions for both Merrill Lynch and Dresdner Kleinwort Benson before founding his own research company, Research Works, in 1999, which he moved to China three years later.
Peyman says a lot of research now is based on algorithms and done through computers.
"There is less human input but you still need that. When you are in an 'up' cycle, for instance, you really need to know when to get off the roller coaster. And it is those calls people want to hear."
So what does he think is next for China? As China has had an almost unprecedented period of sustained growth since the reform and openingup, Peyman does not expect any major reversal.
"In terms of urbanization, China still only has between 24 and 25 square meters per person, which is less than that of the average of between 31 and 35 square meters per person in Northeast Asia, so there is still room to grow," he says.
He says the argument of his book-influenced as it is by the ancient text of the Book of Changes-is that China will be able to respond to what is thrown at it.
"Managing life is accepting the fact that nothing stays quite the same," he says.
Contact the writer at andrewmoody@chinadaily.com.cn