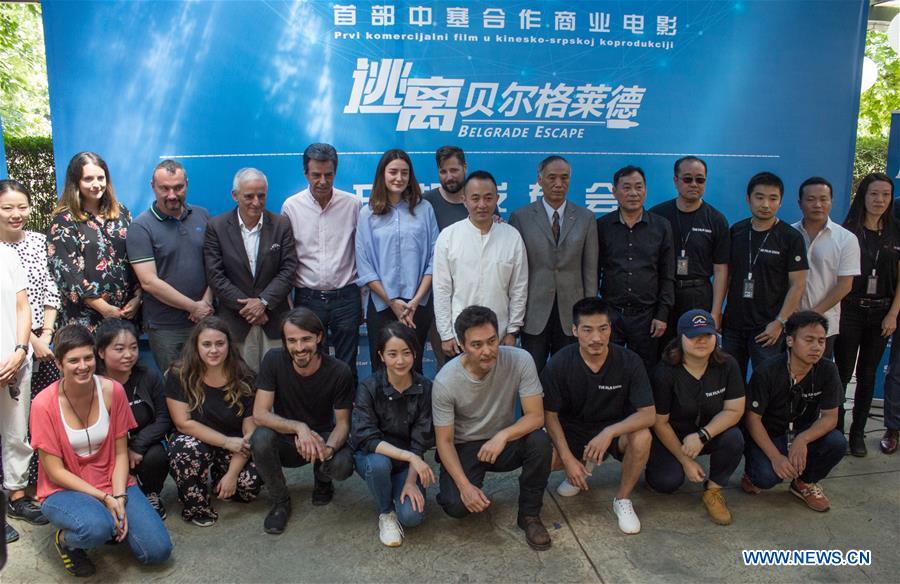 Guests pose for a group photo at a ceremony marking the start of filming of Belgrade Escape in Belgrade, Serbia, on July 26, 2018. [Photo/Xinhua]
Micanovic recalled his previous appearances in China, in a theater play of the Yugoslavian Drama Theater in Beijing and Shanghai in 2017, as well as his earlier work on a British movie in Shanghai several years ago.
"It is my great pleasure to work on the first Chinese-Serbian co-production film. I am sure that this will be one of my most-viewed movies," Micanovic told journalists, confirming that he is interpreting the role of a villain.
Producers told journalists that the movie is budgeted at around 1.5 million euros (1.75 million U.S. dollars) and that 30 shooting days are planned in Belgrade, concluding on Aug. 23.
Boban Jevtic, director of the Film Center of Serbia stressed the importance of the first Sino-Serbian film project, explaining it as a result of good cooperation between the two countries and its cultural institutions.
The film crew and guests celebrated "Belgrade Escape" with champagne, symbolically unveiling a film camera to mark the beginning of the shooting.