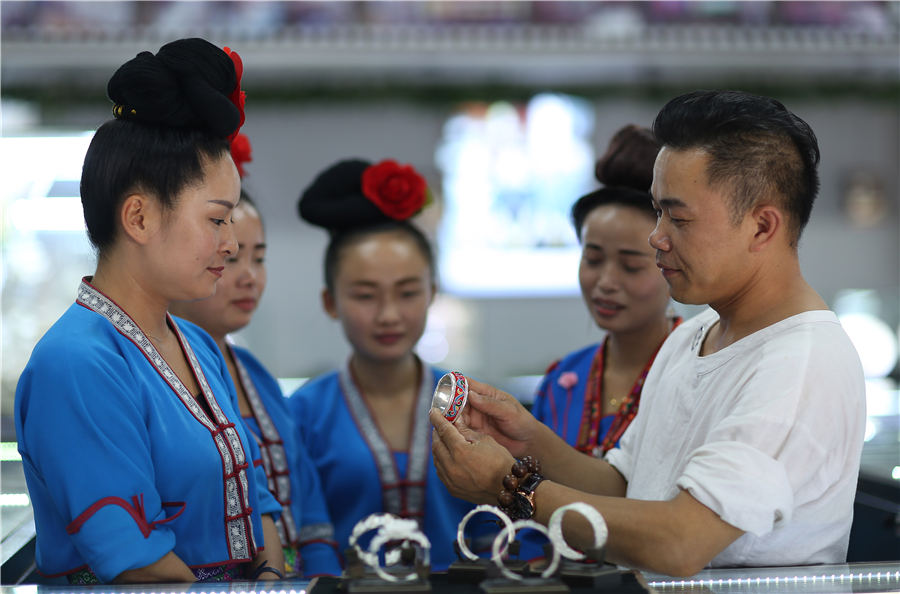 Wang trains the saleswomen at his store, July 12, 2018. [Photo by Huang Xiaohai/Asianewsphoto]
Wang Guochun, coming from a long line of silversmiths, is now a local intangible heritage successor creating a better life for his family and his fellow villagers.
He left his hometown when he was a teenager to work for a jewelry factory and support his family. There, Wang was exposed to modern jewelry design and business management which paved the way for his own silverware start-up in 2010.
Focusing on handmade silverware with an exotic ethnic style, he has obtained 8 patents on jewelry making techniques and 50 patents on jewelry designs. The former workshop now has grown into a company with 1 million yuan ($150,000) sales every month.
Wang combines online and store marketing together, which promotes his products to an international clientele.
Now, he wants to lift more villagers in Southwest China's Guizhou province out of poverty. He has created 84 jobs for local residents. Free silversmith training courses are open to over 500 low-income individuals.
"My goal is to create a 'silversmith village'," Wang said. "So more people can carry on this traditional folk craftsmanship and live a well-off life."