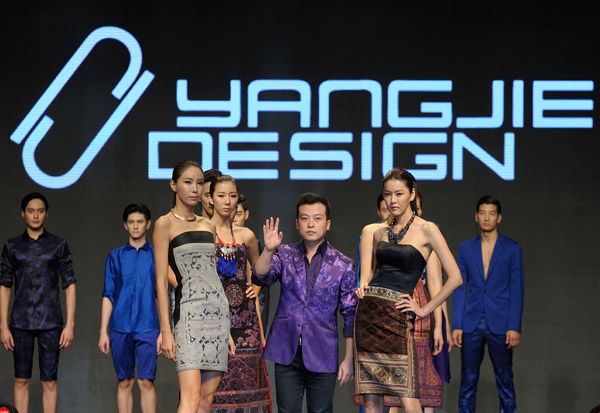 Yang Jie shows his works at South Korea Busan Fashion Week in 2014. [Photo provided to China Daily]
The Chinese fashion designer Yang Jie is well known for his works, such as his design for torch relay bearers' clothes for the Olympic Games in Beijing in 2008 and the clothes for the pilots of the Chinese Air Force's August 1st Air Demonstration Team in 2009.
As the founder of two fashion brands, Yang Jie Design and Xi Xiu for menswear, Yang, who has taught at the Beijing Institute of Fashion Technology for more than 10 years, says he has drawn his inspiration largely from the embroidery skills of the Miao ethnic group, one of the oldest Chinese ethnic groups.
During a recent fashion show at Prince Gong's Mansion (Gong Wang Fu) in Beijing, the former residence of the Qing Dynasty (1644-1911) prince, Yang displayed more than 40 works involving embroidery skills of Miao ethnic group, which he has designed since 2013.
"Some internationally celebrated fashion designers have looked back on their tradition to get inspiration," Yang says. "For example, in designs of the Italian-born Domenico Dolce and Stefano Gabbana, Dolce&Gabbana, homage is paid to Sicilian tradition. As a Chinese designer I want to celebrate the heritage from my hometown through my works."
Yang, 37, grew up in the mountainous areas of Huaihua, a city in the southwest of Hunan province, which is home to many ethnic groups. Yang, a member of the Miao ethnic group, used to spend his holidays in the village, where his grandparents lived.
"My grandmother used to wear traditional Miao ethnic clothes and silver accessories that she handmade herself," Yang says. "Like many women in her village she did needlework several hours a day."
The tradition of silver accessories making and embroideries is deeply rooted in Miao ethnic culture, he says.
Traditional Miao embroidery designs use deep and bright colors to flesh out flowers, animals, natural scenery and the daily lives of Miao people.
"The designs for Miao ethnic embroidery, usually made by women, signify good luck and express wishes," Yang says.
"Those women making embroidery are called xiuniang, and they design the colors and patterns based on their mood at that particular moment while making embroidery. For example, when the xiuniang uses pink standing out among other darker colors, she is wishing for a baby girl for the family."