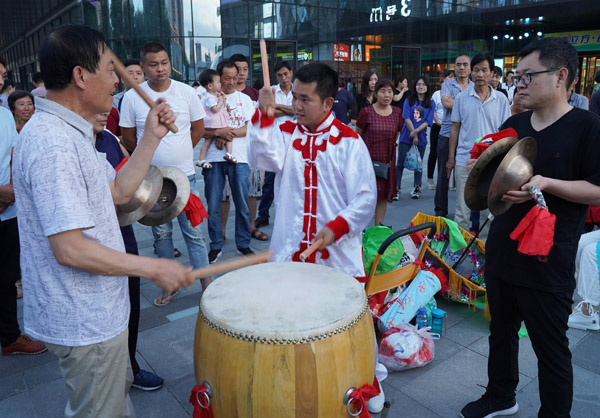 Chen Zhichao says yangge represents a collective aspect of Chinese culture and is a typical Shaanxi culture. [PHOTO BY HUO YAN/CHINA DAILY]
While square dancing and its omnipresent boomboxes entrance huge swathes of the Chinese population, it is an ancient form of movement and music that keeps others preoccupied
When Chen Zhichao, 23, ends his long work day at a medical college in Xi'an, Shaanxi province, he eschews the kinds of places many of his peers repair to, such as bars, cinemas and shops. Instead, he goes to a square on the southern part of Big Wild Goose Pagoda, a landmark in Xi'an built during the Tang Dynasty (618-907).
There he meets a group of elderly people who with him are members of a yangge dance troupe.
Four times a week they start dancing yangge at 8 pm with Chen as the team leader playing the main drum beat. They dance in circles, waving colorful silky fans and umbrellas in the air. With big smiles on their faces, the dancers usually draw a lot of attention, and often those taking pictures of them even join in on the dancing.
"Ninety percent of the dancers are retired, and yangge is a major entertainment in their lives," says Chen, who heads four yangge teams in Xi'an with more than 300 people."