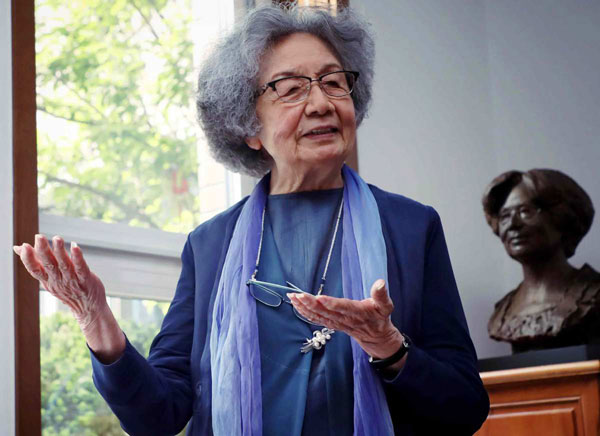 Florence Chia-ying Yeh
A hush fell over the crowd at Tianjin's Nankai University as Florence Chia-ying Yeh prepared to talk.
It was a rare public appearance for the renowned poetry scholar in her mid-90s, and her fans were not about to miss a chance to see her.
About 50 people had packed the small reading room of the college's Jialing Academy on June 24, and at least 60 more stood in a courtyard listening through speakers as she chatted about her life and recited poetry.
Yeh has a special bond with Nankai. Not only has she taught there since 1989, when she retired from Canada's University of British Columbia, but she has also donated millions of yuan to establish scholarships and has pledged to make the college a significant beneficiary in her will.
"After announcing my plans to support Nankai University in setting up the Jialing scholarship to support research into Chinese traditional culture, many people have asked me why I'm committed to doing so," she said.
"I've never cared about personal wealth as I've weathered all types of challenges and endured many losses in my lifetime. In my darkest moments, it was poetry that enabled me to gain perspective."
Yeh was born in Beijing in 1924 on the first day of the sixth lunar month, which this year falls on July 13.
When she was 17 years old, her mother died, so she was cared for by relatives since she had no contact with her father.
She graduated in her 20s from Fu Jen Catholic University-which later became part of Beijing Normal University-and started teaching literature at a secondary school.
In 1948, toward the end of the Chinese civil war, Yeh married Chao Chung-sun, who worked for the Kuomintang navy. The couple moved to Taiwan the next year after establishment of the People's Republic of China.
Yeh found work at a school in Changhua. However, not long after arriving in Taiwan, Chao was arrested on suspicion of being a spy and imprisoned for three years. Yeh, who had given birth to a daughter only months earlier, was also briefly detained by police but no charges were brought against her.
She lived with relatives until her husband's release in 1952 and continued to teach, later being recruited by National Taiwan University.
In 1966, the couple moved to the United States, where Yeh taught Chinese poetry first at Michigan State University and then at Harvard University. They moved to Canada in 1969 when Yeh was offered tenure at UBC, where she now is professor emeritus.
Tragedy again struck in 1976, when Yeh's eldest daughter and son-in-law were killed in a traffic accident in Toronto. Chao died in 2008.
"Enormous sorrow and hardship have propelled me to gain an outlook on life that I don't mind any success or failure, gain or loss," she said.
That outlook helped her thrive in situations in which others may have foundered. When she arrived in the US, Yeh could teach only in Chinese. She knew this would have to quickly change.
"I had to support my entire family while living overseas. I worked to improve my language skills and understanding of the West so I could teach Chinese culture in English," she said. "Every night I'd check dictionaries for every word of the Chinese poems I'd be discussing the following day."
Her hard work meant eventually she was able to explain fluently the styles and mindset of Chinese poets to Western audiences as well as present compelling interpretations of their poems to the wider world.
Studies in Chinese Poetry, the 1988 book she co-wrote with Harvard professor James Hightower, is recognized for its profound impact on the global appreciation of Chinese poetry.
Beginning in 1979, Yeh began spending summers teaching at various Chinese colleges, including at the prestigious Beijing, Nankai and Fudan universities. She offered her services for free and paid her own travel expenses.
In 1978, she wrote the Ministry of Education asking to teach in her homeland, making Yeh-now a Canadian citizen-one of the first Chinese-born scholars to return from overseas.
She was accepted and chose to teach at Nankai University, where in 1993 she became the founding director of the China Comparative Literature Institute, later renamed the Institute of Chinese Classical Culture.
Yeh announced early last month she had donated 18.57 million yuan ($2.8 million) to the college to establish the Jialing scholarship. She also had helped fund a scholarship named in honor of her eldest daughter and son-in-law. This is the second scholarship program she has helped fund, with the first named in honor of her eldest daughter and son-in-law.
Her appearance at Nankai on June 24 coincided with the university's annual Lotus Culture Day, which celebrates the "lotus spirit". In traditional Chinese culture, the flower represents purity.
"I've appreciated the 'lotus spirit' since I was young, and I've written many poems about the noble flower," she said. Her childhood nickname was Xiaohe, meaning Little Lotus, she added.
Yeh, who recently had three articles published, also has kept her sense of humor.
"My two maids at home joke frequently about why, at my age, I'm always reading or writing papers, even sometimes becoming so engrossed that I forget to eat," she said, sparking laughter among the audience.