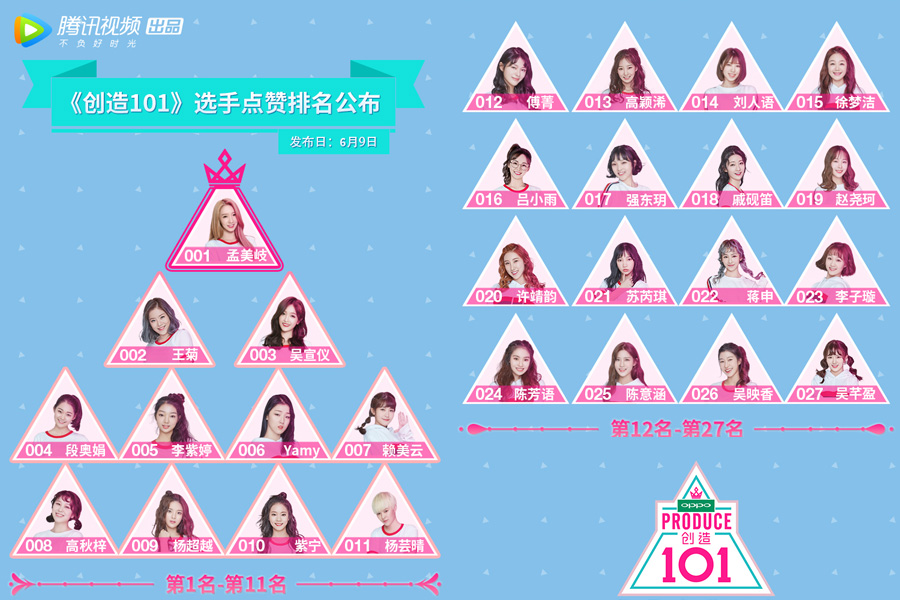 The amount of "likes" as voted by netizens measures the popularity of each trainee and determines if she can stay onstage. [Photo provided to chinadaily.com.cn]
The verb "pick" is one of the more frequently used words on Chinese social media platforms these days, thanks to the mega-hit girl group survival reality show Produce 101.
"Pick", which refers to "choose and love me" in the show, is not only the wishes of those young girls, but acts as the bridge to connect their fans with them — "If you select me to be your idol, I will show the best of me for you" — just like the theme song goes, "I am the one you love, baby you want to pick me up."
As an spin-off of the South Korean television show of the same name, the Chinese Produce 101 premiered on Tencent Video on April 21 and marketed itself as "the first agency-collaboration girl group project" in China.
A total of 101 trainees from different entertainment enterprises competed against one another to become one of the 11 finalists that would make up China's brand new girl group.