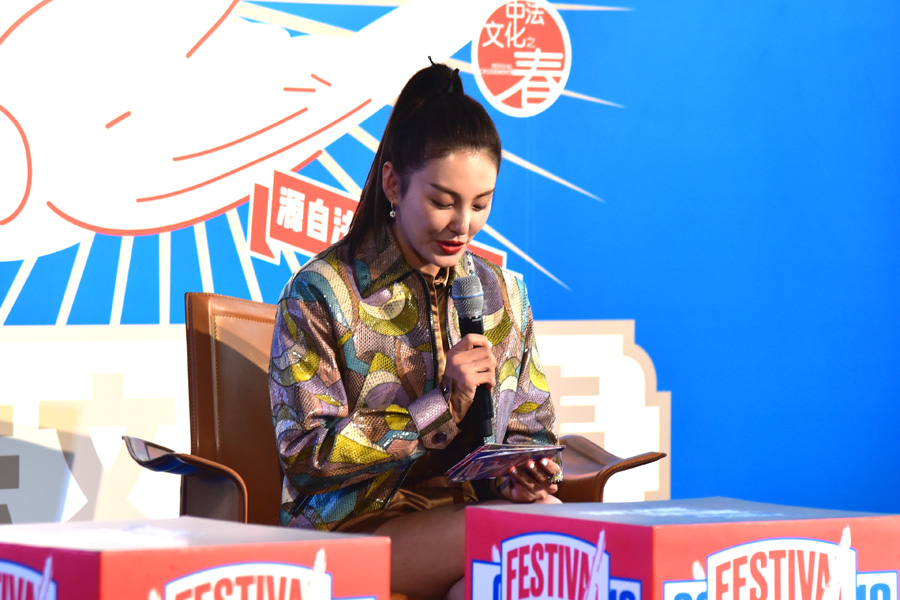 Chinese actress Zhang Yuqi acts as the cultural ambassador of the 13th Croisements Festival. [Photo by Zhang Xingjian/chinadaily.com.cn]
The 13th Croisements Festival celebrating the arts is set to run from April 24 to July 24, 2018.
The festival, which covers a variety of activities in the fields of visual arts, drama, dance, music, film and literature, will be unveiled in 30 cities across China.
The program's emphasis is on Franco-Chinese artistic collaborations, with invitations to French artists who draw their inspiration from Chinese life and culture.
This year, the 2018 Croisements Festival has the support of three Chinese cultural ambassadors: Chinese actress Zhang Yuqi, writer Liu Zhenyun and composer Tan Dun.
"French art has always had a strong appeal to me. As an actress, I have attended the Cannes Film Festival before, and I hope to learn more about French culture, film in particular, through the festival," Zhang said.
"A total of seven novels written by me have been translated in France, and I have been to that great country many times to communicate with French readers. I am relieved to find that many readers can discuss profound topics beyond my book, which truly reflects that culture is the significant way to promote relations between countries," Liu added.