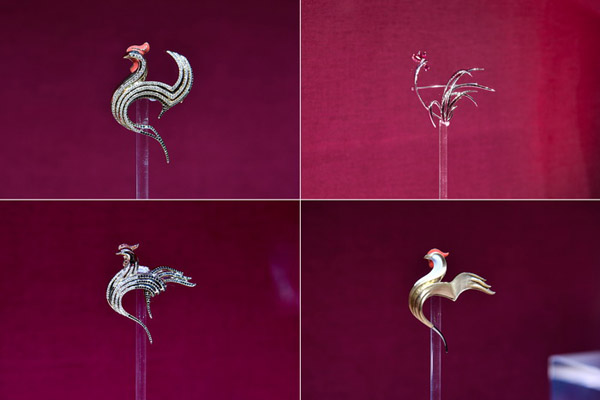 Rooster shaped jewelry are on display at the China Cultural Center in Paris. [Photo/Chinaculture.org]
A Chinese zodiac jewelry exhibition is underway at the China Culture Center in Paris, as a final event of the Chinese Culture Ministry's Happy Chinese New Year project to celebrate the lunar New Year of Rooster.
Over 200 pieces of jewelry featuring zodiac figures, including Rooster, Monkey, Horse and the powerful Chinese mythological creature Dragon, are on display, in order to showcase the exquisite designs of Chinese jewels and the time-honored culture of the Chinese zodiac.
The exhibition runs through Feb 28.
The Chinese zodiac assigns one of 12 animals, either real or mythological, to each year. This year is the Year of the Rooster, the only bird represented in the zodiac. In Chinese, rooster is pronounced ji - similar to the sound of the character meaning "good luck". Hence the rooster has been seen as an auspicious creature in Chinese culture.