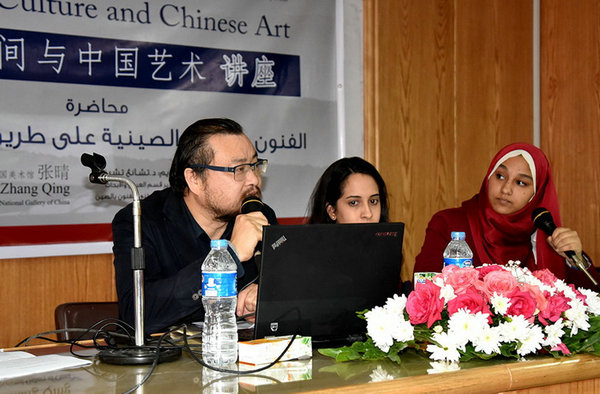 Zhang Qing gives a talk on maritime culture and Chinese art in Caro, Egypt, Nov 17, 2016. [Photo/Chinaculture.org]
Curator Zhang Qing gave three talks on maritime culture and Chinese art in Caro, Egypt on Nov 16-17 and Brussels, Belgium, on Nov 21.
The event was hosted by Chinese Culture Talk, which was held in Egypt for the first time.
The talk featured the communication and integration of Chinese art and other countries since the start of the Maritime Silk Road. Zhang also spoke on the new look of China's culture and economy during the talk.
Liu Yongfeng and Li Dong, minister-counselors of the Chinese Embassy to Egypt, Chen Dongyun, director of the China Cultural Center in Cairo, attended the event on Nov 17.
2016 marks the 60th anniversary of the establishment of diplomatic relations between China and Egypt. The talk provided a platform for cultural exchange between the two nations and enhanced mutual communication and understanding.
The talk in Brussels was the first event for the 2nd China Art Festival in the EU. About 150 Chinese and EU officials and representatives attended.
Launched in 2015 by the Ministry of Culture, the Chinese Culture Talk is a series of high-level cultural and academic lectures. More than 40 lectures have been held in the US, France, Italy, Cambodia and Indonesia. The content varies from philosophy, religion, cultural heritage, literature and art, costume, cooking and Chinese medicine.