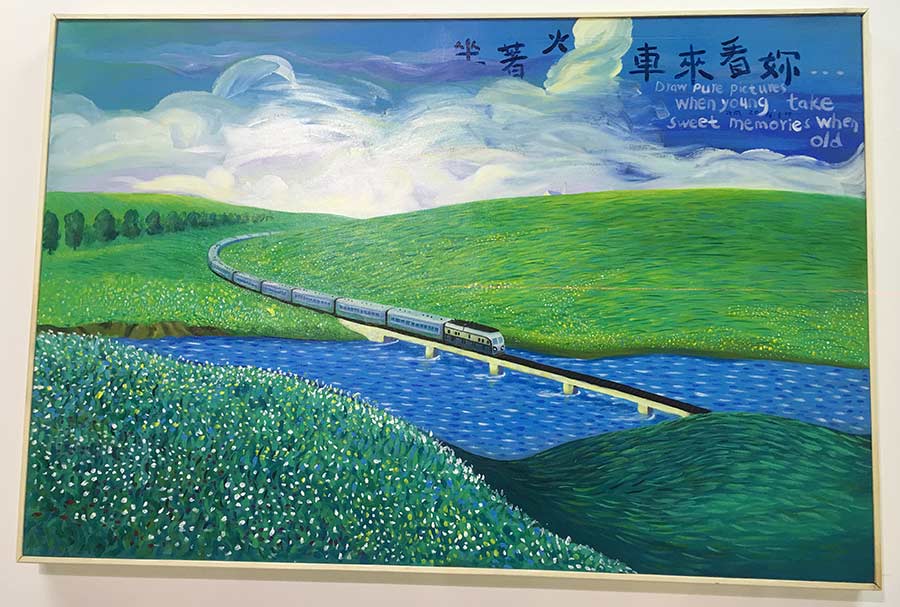 Come to See You by Taking a Train, 2016, by Liu Rongfeng [Photo provided to chinadaily.com.cn]
The art exhibition titled "As Time Goes By" is showing more than 50 pieces of paintings by artist Liu Rongfeng at Beijing Shang Ba art gallery. The paintings cover acrylic on canvas, computer-aided drawings as well as mobile phone paintings. The novel forms and vivid colors are refreshing for the eyes.
Liu Rongfeng, from Shandong province, is a film artist who learned paper cutting from his grandma, and has been drawing graffiti for more than 20 years.
Rasko Radovic, an art critic, said that Liu's work attracts us not only due to the unlimited imagination and creativity of the theme he creates, but also the unusual colors he uses. "Besides, the transparency effect his colors produce, which seem to flow and shine, and provide visual enjoyment, which attract me," Rasko said.
Liu's works lead people to imagine beyond the real world, like he said, "I like clean things as life is sometimes too terrible. I enjoy filling in clean lines and colors in my paintings and keeping the picture neat and orderly. If I don't have profound thinking to contribute to the world in my painting, at least I can give audiences visual enjoyment. Painting is like my utopia, where I can escape from the reality, and give me a sense of security."
The exhibition, curated by Wang Tao and Rong Guang, will run through Nov 30.