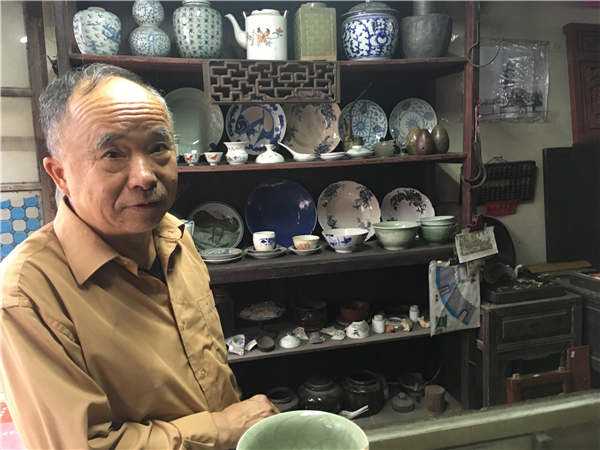 Yang Yuefu, owner of a carpentry shop in Wuzhen. Photos by Yang Yang/China Daily
Collection unveils a community's daily life and colorful times
Strolling in Wuzhen's Nanzha, one will come across private museums displaying articles for daily life that local people used in older times.
Yang Yuefu, 72, runs a carpentry shop at No 82 Nandajie Street, in Nanzha. The 20-square-meter shop houses many old items he collected from residents, such as 3-inch shoes for women who had their feet bound, old-fashioned luggage, and a bride's red dress with embroidery.
Yang knows the story of each article, big or small. They and their stories are witnesses to the history of the town.
The china bowls on the shelf were left behind when the Japanese army retreated in the 1940s, Yang says, and the two plates beside them were export goods sold domestically in the 1950s and '60s.
Two sketches on the wall show the old views in Wuzhen-bridges, waterfronts and buildings.
I saw an old window, with wooden grids inlaid with dirty flakes of material that I cannot identify.
Yang smiles proudly. "Before glass became cheap and popular, this material-like frosted glass-could keep out light and wind, but keep the rooms bright. Rich families started to use this in the Southern Song Dynasty (1127-1279)."